Posts Tagged 'writer'
A bibliography for writers.
Featured Book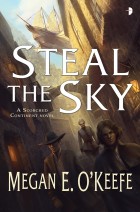 "Blend two lovable rogues, a magical doppelganger, and a nasty empire, and you have O'Keefe's Steal the Sky. It's like an epic steampunk Firefly." – Beth Cato, author of The Clockwork Dagger
Featured Member
Tracy S. Morris
When Tracy S. Morris was four years old, she wrote her first "novel" in crayon on the back of a newspaper and gave it to the postman along with an antique silver dollar so that someone could turn it into a novel. She is still waiting to hear back.