Posts Tagged 'writer'
A bibliography for writers.
Featured Book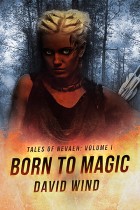 Long ago, a mythical nation known as 'America' died in the violence and radiation of the terrorist wars. Now the survivors dwell in a world of ritual and magic where ten dominions struggle for supremacy while a dark power rises to threaten them all.
Featured Member
Vylar Kaftan
Vylar Kaftan has published about 40 short stories in places such as Asimov's, Clarkesworld, and Lightspeed. She was nominated for a Nebula in 2011. She's the founder of FOGcon, a new sf/f literary convention in the San Francisco Bay Area.