Posts Tagged 'writer'
A bibliography for writers.
Featured Book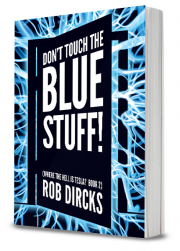 SOMETHING CALLED THE "BLUE JUICE" IS COMING. FOR ALL OF US. Luckily, me (Chip Collins), Pete, Nikola Tesla, Bobo, and FBI Agent Gina Phillips are here to kick its a**, and send it back to last Tuesday. Maybe. Or maybe we'll fail. We'll see.
Featured Member
Susan R. Matthews
Susan's been working on the Jurisdiction series for more years than she cares to specify. Now that she's retired from her day job she's calling herself a full-time author in shameless disregard of the facts.