Posts Tagged 'writer'
A bibliography for writers.
Featured Book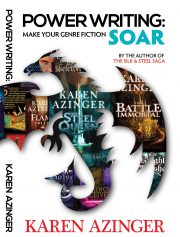 Learn how to write bold genre fiction that will enthrall your readers. Novice writers learn about 'tells' that warn agents of amateur writing. Veterans discover the flavors of world building and description from the eye of the beholder.
Featured Member
Laura Anne Gilman
Laura Anne Gilman is the Nebula-nominated author of the Vineart War trilogy, the "Cosa Nostradamus" urban fantasy series, and a few other works, including the occasional short story. Under the name L.A. Kornetsky, she also writes mysteries.