Posts Tagged 'writer'
A bibliography for writers.
Featured Book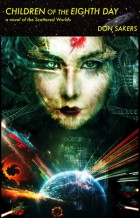 Rikk Hoister and his cousins are the pinnacle of human evolution, cloned geniuses with powerful paranormal abilities. Life is good–until ships and soldiers of the Terran Empire invade their homeworld and take most of the Hoister Family captive.
Featured Member
Don Sakers
Don Sakers is the author of the Scattered Worlds Mosaic series. He's explored the thoughts of sapient trees, brought Carmen Miranda's ghost to Space Station 3, and beaten the "Cold Equations" scenario. His book review column appears in Analog.