Posts Tagged 'writer'
A bibliography for writers.
Featured Book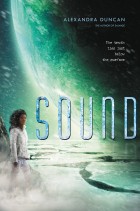 When Miyole's ship is attacked by pirates, she and a fiery girl named Cassia embark on a mission to rescue Cassia's abducted brother. Along the way, they fall in love, and the course of Miyole's life changes forever.
Featured Member
Amanda C. Davis
Amanda C. Davis is a combustion engineer and short-fiction author who bakes excellent macarons and watches terrible slasher movies. She tweets enthusiastically as @davisac1.