Quick Updates for 2010-09-28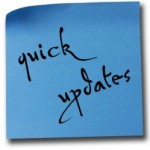 Member News
SFWA member Lucienne Diver posts one of her Agent Anonymous columns "Demystifying the Mystical Art of Negotiation".
SFWA members John Cleaver and F. Paul Wilson will appear at Borderlands in SF on Oct 16.
All Things Urban Fantasy features SFWA member Maria Lima's BLOOD HEAT in Hot New Releases.
SFWA member Harry Connolly's section of Suvudu.com's reader-driven chain story now online.
SFWA member Jaq Greenspon's story "Mirrors and Infinity" is in the new collection Dead Neon from University of Nevada Press.
SFWA member Paul S. Kemp has signed with Del Rey to write a Star Wars duology.
Congratulations to SFWA member Alyx Dellamonica, whose novel INDIGO SPRINGS won the 2010 Sunburst Award.
SFWA Member Terry O'Brien's new blog covers all forms of hypnosis and related subjects in all media forms.
SFWA members, if you're wondering how to add your info to the SFWA updates, here's an FAQ.
The TOC for Steam-Powered, Lesbian Steampunk Stories includes SFWA members Matt Kressel & N.K Jemisin.
Resources