2011 Nebula Awards Announced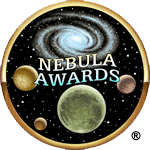 The Science Fiction & Fantasy Writers of America, Inc. is pleased to announce the recipients of the 2011 Nebula Awards®.
Novel Winner: Among Others, Jo Walton (Tor)
Other Nominees
Novella Winner: "The Man Who Bridged the Mist," Kij Johnson (Asimov's Science Fiction, October/November 2011)
Other Nominees
Novelette Winner: "What We Found," Geoff Ryman (The Magazine of Fantasy and Science Fiction, September/October 2011)
Other Nominees
"Ray of Light," Brad R. Torgersen (Analog Science Fiction and Fact, December 2011)
"Sauerkraut Station," Ferrett Steinmetz (Giganotosaurus, November 2011)
"Six Months, Three Days," Charlie Jane Anders (Tor.com, June 2011)
"The Migratory Pattern of Dancers," Katherine Sparrow (Giganotosaurus, July 2011)
"The Old Equations," Jake Kerr (Lightspeed Magazine, July 2011)
Short Story Winner: "The Paper Menagerie," Ken Liu (The Magazine of Fantasy and Science Fiction, March/April 2011)
Other Nominees
Ray Bradbury Award for Outstanding Dramatic Presentation Winner: Doctor Who: "The Doctor's Wife," Neil Gaiman (writer), Richard Clark (director) (BBC Wales)
Other Nominees
Attack the Block, Joe Cornish (writer/director) (Optimum Releasing; Screen Gems)
Captain America: The First Avenger, Christopher Markus, Stephen McFeely (writers), Joe Johnston (director) (Paramount)
Hugo, John Logan (writer), Martin Scorsese (director) (Paramount)
Midnight in Paris, Woody Allen (writer/director) (Sony)
Source Code, Ben Ripley (writer), Duncan Jones (director) (Summit)
The Adjustment Bureau, George Nolfi (writer/director) (Universal)
Andre Norton Award for Young Adult Science Fiction and Fantasy Book Winner: The Freedom Maze, Delia Sherman (Big Mouth House)
Other Nominees
2011 DAMON KNIGHT GRAND MASTER AWARD: Connie Willis
SOLSTICE AWARD: Octavia Butler (posthumous) and John Clute
SERVICE TO SFWA AWARD: Bud Webster
"This is a fantastic list that shows both the width and depth of our genre. It shows that Science Fiction and Fantasy are not static but continue to grow and change. We are truly blessed with a fantastic slate of finalists this year. That these authors came out as the winners, is a credit to both the strength of the slate itself and the individual authors, and I couldn't be happier for you. Congratulations to you all."
-John Scalzi
President
Science Fiction and Fantasy Writers of America
"While the Nebula Awards are voted on by the members of SFWA, before we were professional writers, each of us is a fan of the genre. The winners of the Nebulas represent not just a critical achievement, but also that these are all really good reads. I'm very proud of all of the recipients' work."
-Mary Robinette Kowal
Vice President
Science Fiction and Fantasy Writers of America.
THE NEBULA AWARD
The Nebula Awards® are voted on and presented by the active members of SFWA for outstanding science fiction and fantasy published in 2011. The awards were announced at the Nebula Awards® Banquet held at the Hyatt Regency Crystal City in Arlington, Virginia.
THE SOLSTICE AWARD
The Solstice Awards were created to acknowledge members who have had a significant impact on the science fiction and fantasy landscape. It is especially meant for those who have made a consistent, positive, major difference in the genre.
This year's award was crafted by Mike Libby, of Insect Lab.
ABOUT SFWA
Founded in 1965 by the late Damon Knight, Science Fiction and Fantasy Writers of America brings together the most successful and daring writers of speculative fiction throughout the world.
Since its inception, SFWA® has grown in numbers and influence until it is now widely recognized as one of the most effective non-profit writers' organizations in existence, boasting a membership of approximately 2,000 science fiction and fantasy writers as well as artists, editors and allied professionals. Each year the organization presents the prestigious Nebula Awards® for the year's best literary and dramatic works of speculative fiction.