Guest Post: Where's the Diversity, Hollywood?
From Lee & Low Books:
Summer blockbuster season is in full swing. For many moviegoers, that means escaping to a galaxy far, far away—or perhaps just a different version of our own planet Earth—through science fiction and fantasy movies. As fans clamor for the latest cinematic thrills, we decided to focus our next Diversity Gap study on the level of racial and gender representation in these ever-popular genres that consistently rake in the big bucks for movie studios. We reviewed the top 100 domestic grossing sci-fi and fantasy films as reported by Box Office Mojo. The results were staggeringly disappointing, if not surprising in light of our past Diversity Gap studies of the Tony Awards, the Emmy Awards, the children's book industry, The New York Times Top 10 Bestseller List, US politics, and the Academy Awards, where we analyzed multi-year samplings and found a disturbingly consistent lack of diversity.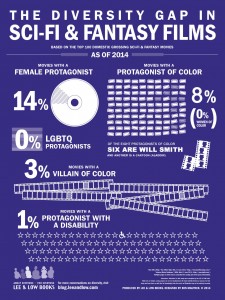 Among the top 100 domestic grossing films through 2014:

• only 8% of films star a protagonist of color
• of the 8 protagonists of color, all are men; 6 are played by Will Smith and 1 is a cartoon character (Aladdin)
• 0% of protagonists are women of color
• 0% of protagonists are LGBTQ
• 1% of protagonists are people with a disability
For more information head to the Lee & Low blog, where this post first appeared.