Bud Sparhawk: The Never-Ending Nebula Weekend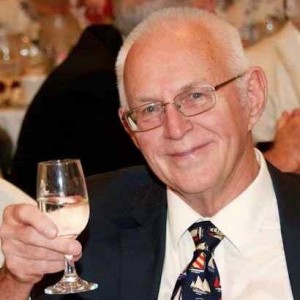 Soon the tribe of misfits, dreamers, and outcasts will gather in Chicago for the 50th Annual Nebula Awards. Think about that for a moment – Fifty Fucking Years!  Lord-a-mercy, could Damon Knight have ever foreseen such an event when he passed the hat to create the Science Fiction Writers of America?
Since that time SFWA has progressed from a fan-boys club to a world-wide membership embracing all the colors, personalities, and genders of our diverse field.  More and more our members resemble the society from which we spring.  Similarly our once outcast genre is now increasingly mainstream, as represented by the variety of stories up for this year's premier writing award.
This year's Nebula Award weekend will no doubt begin with exclamations of joy, hugs, kisses, handshakes, and respect when attendees meet one another in the lobby and then rapidly progress to smaller, random gatherings wherever two or more writers, agents, fans, editors, or publishers happen to gather.  The weekend is a combination business meeting and convention, a gathering of writers at all stages of their careers, and, of course, the announcement of the most outstanding of the best writing of the past year.
A lot of official SFWA business will conducted as Officers and Board members finally come face to face with the members they've only contacted electronically at a catered business meeting held for members.  Educational sessions will be held to inform attendees on the craft and art of the genre during the day. On Saturday night the *glitterati* of our community will flow into the banquet for the presentation of the beautiful Lucite Nebula trophies to the top vote-getters in each award category;  service awards to volunteers, and a moment's pause for those who have left us in the past year.
It is a wonderful, inspirational, entertaining, and physically exhausting weekend that everyone hopes will never end.
But then, sadly, it will.
Bud Sparhawk has published one mass market paperback novel:VIXEN (Cosmos, ISBN 978-08439-5945-1, 2008)  and two print collections: SAM BOONE: FRONT TO BACK (Foxacre Press, 2001) and DANCING WITH DRAGONS (Wildside Press, 2008). He has three e-Novels available through Amazon and other channels.  His novel DISTANT SEAS will be coming from Fantastic Books in April 2015 as trade paperback and eBook.
 Bud has been a three-time novella finalist for the Nebula award: PRIMROSE AND THORN (Analog, May 1996), MAGIC'S PRICE (Analog, March 2001), and CLAYS'S PRIDE (Analog, July/August 2004).  His work has appeared in two Year's Best anthologies: YEAR'S BEST SF #11 (EOS, ISBN-13:978-0-06-087341-7l, David Harwell-Editor) and The Years Best Science Fiction, Fourteenth Annual Collection, (St Martins Press, Garner Dozois – Editor.)
Bud's short stories have appeared frequently in Analog Fact/Fiction, less so in Asimov's, as well as in four Defending the Future and other anthologies, publications and audio books. He has put out several collections of his published works in ebook format.  A complete complete bibliography can be found at: http://budsparhawk.com.
He resides in Annapolis Maryland with his wife of fifty-five years and writes a weekly blog on the pain of writing at http://budsparhawk.blogspot.com.