| | |
| --- | --- |
| Photo by George Elgin | Suzette Haden Elgin |
Suzette is writing a new novel -- no title yet. The protagonist is a linguist from the U.S. Corps of Linguists [USCOL] who has failed some of her finals and has been ordered, as a penalty, to do fieldwork on -- and write a monograph about -- four ET languages spoken on the planet Gaudalle. One of the first things linguists do to prepare for fieldwork with a language is put together a core-vocabulary list [traditionally called a "Swadesh list"] for it, roughly one hundred words long. Which means that before Suzette could write the novel she had to do one of those lists for each of the languages: Thandi; Lenadess; Aubre; and Nangdi. And here they are, starting with a Panglish list to serve as the key....
Click here for the core-vocabulary list.
---
Thanks to the hard work and the technical skills of Jackie Powers, there's now a new Láadan website. [Láadan is the language I constructed for the Native Tongue trilogy.] Everything Láadan is there, including the first ten lessons of my new
Láadan For Beginners
, all about fans and a dragon who are going to a science fiction convention. The dictionaries -- Láadan to English, English to Láadan -- are there. All the links to other Láadan webpages are there. I'll be writing regular blogposts for the site, but because I'm in such disarray at the moment the first four of those posts will be items I've already done here at LiveJournal -- done long enough ago to be new to most readers.
Jackie and I would be pleased to have feedback from you about the new site, and about the
Láadan For Beginners
course. The URL is
http://www.LaadanLanguage.org
.
New 2009 Edition of the
Gentle Art of Verbal Self-Defense
.
Suzette's husband has now set up an online gallery selling limited edition prints of her drawings,
at
http://www.bysuzettehadenelgin.com
.
Online:
New online fiction
Recent Publications:
A new short story in Challenging Destiny
---
Ace Double cover

Book One in the Coyote Jones Series

Cover by Marge Simon

Science Fiction Poetry



Now available from Sam's Dot Publishing
at GenreMall
Suzette Haden Elgin was born in Missouri in 1936. All sorts of things happened, and in the late 60s she found herself widowed, re-married, mother of five, and a graduate student in the Linguistics Department of the University of California San Diego. Since everyone knew in those days that mothers-of-five hadn't a prayer of making it to the Ph.D., money for school was scarce; even teaching high school at night didn't cover the bills. Suzette therefore began writing science fiction novels to pay her tuition. She did survive grad school, with the distinction of being the only student ever to have to write two dissertations (one on English, one on Navajo) for that purpose; she went on to teach linguistics at San Diego State University, and then retired in 1980 to the Arkansas Ozarks, where she can still be found. She has grandchildren (twelve of them) worldwide.
Her first novel, The Communipaths, was published as half of an "ACE double" in 1970, starting her Coyote Jones series. (That's "Coyote" with three syllables.) Her second Coyote Jones book, Furthest, was published as an Ace Science Fiction Special in 1971; the third in the series -- Star-Anchored, Star-Angered -- was published by DAW Books. Next came The Ozark Trilogy -- Twelve Fair Kingdoms, The Grand Jubilee, And Then There'll Be Fireworks -- in 1981; it was a Science Fiction Book Club Alternate. (Coyote Jones appeared in another book set in the Planet Ozark universe, called Yonder Comes the Other End of Time.)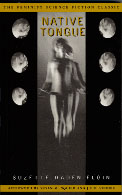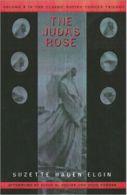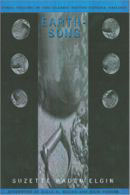 Next Suzette wrote the three novels in her Native Tongue series -- Native Tongue, The Judas Rose, Earthsong -- for DAW; all three have recently come out from Feminist Press in reprint editions, with scholarly afterwords. The Native Tongue series was a scientific experiment with a ten-year term, and it involved the construction of the language called Láadan; the Láadan Grammar & Dictionary was published by SF3 in Madison, Wisconsin. Finally, she wrote Peacetalk 101 (a verbal self-defense science fiction novel), published by Lethe Press in 2003.
Suzette has published a modest amount of shorter fiction; her most recent short stories are "Honor Is Golden" (Analog, May 2004) and "We Have Always Spoken Panglish" (SciFi.com, October 2004), both from her series of stories about a fictional future U.S. Corps of Linguists (USCOL). Another (non-USCOL) story, titled "Death and Taxes," is scheduled to appear in Issue #25 of Challenging Destiny.
She founded the Science Fiction Poetry Association, and was for a while editor of its newsletter, Star*Line; she is a science fiction artist and poet and musician; she goes to as many sf conventions as she can fit into her schedule; and she writes and publishes a newsletter called Linguistics & Science Fiction.
In her spare time, Suzette runs a home-based virtual business [the Ozark Center for Language Studies (OCLS)] dedicated to the two goals of reducing violence in the U.S. and getting information about linguistics out to the public, and she writes nonfiction -- most recently The Science Fiction Poetry Handbook, from Sam's Dot Publishing. She also publishes two additional e-mail newsletters: The Verbal Self-Defense Newsletter, and The Religious Language Newsletter, and a LiveJournal blog.
Site space provided by