Posts Tagged 'Oltion'
Article by Jerry Oltion on writing strategies.
Featured Book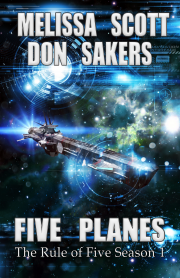 Space opera adventure. Pirates. Judges. Weird physics. Desperate refugees. Struggling colonists. Missing persons and a mystery ship. A quest for human origins in a pocket universe.
Featured Member
M. Darusha Wehm
M. Darusha Wehm is from Canada, but currently lives on her sailboat in Wellington, New Zealand after spending the past several years living and sailing around the Pacific. She's the author of five science fiction novels.