The Priscilla "Hutch" Hutchins novels




~~~~~~~~~~~~~~~
The Engines of God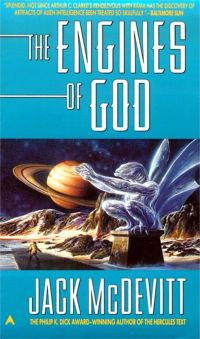 Ace Books
1995
ISBN: 0441002846
Reviews
"McDevitt gives us interstellar archeology rendered with msytery, deftly turned ideas, echoing atmosphere, and steady tension. He delivers a compelling tale with a steady hand."

— Gregory Benrord
"McDevitt is at his best award-winning style in this intelligent and wide-ranging novel."

— Kirkus Reviews
"A terrific book! The Engines of God is science fiction in the grand tradition, an intellectual adventure and a scientific mystery, with the fate of worlds at stake."

— Michael Swanwick
"McDevitt blends straightforward adventure with scientific mystery, peoples the story with diverse...characters, and delivers a rewardingly startling solution."

— Science Fiction Chronicle
"McDevitt induces an old-fashioned sense of wonder with marvelous inventiveness."

— Denver Post
"An appealing melange...a proper label for the book would come across like Polonius describing the players' repertory in Hamlet: hard science-fictional/planetary/romantical/space-adventurous."

— Locus
"A work of beauty and mystery and characters worth knowing."

— Jeffrey Carver
"A rousing archeological adventure transplanted to another star system...McDevitt holds us fast right through to a thrilling finish."

— Booklist
"One of the most satisfying writers in the field."

— Charles Sheffield
~~~~~~~~~~~~~~~
Deepsix
Reviews
"Some authors are masters at spinning world-spanning cosmic tales; others are adept at down-to-earth character-driven stories. But only a precious few can combine the two, and no one does it better than Jack McDevitt."

— Robert J. Sawyer
"All fiction, none more than science fiction, runs on imagination.. McDevitt's work has it in abundance."

— Florida Times Union
"Absorbing."

— Publishers Weekly
"This is a wonderful book, with heroics and villainies and personal transformations fleshing out the plot's pyrotechnics....There are echoes of Conrad here....McDevitt also gives us a retrieval scheme that could have come from the notebooks of Arthur C. Clarke, and a run for rescue as strong as Shackleford's Antarctic expedition....I wish I had time to read it again."

— San Diego Union-Tribune
"Science fiction fans refer to the Sense of Wonder: that kick that reminds us how big, complex, and mysterious the universe really is. Jack McDevitt...gives us this sense of wonder, straight up and undiluted."

— Baltimore Sun
"You ever wonder how fast the speed of light is? Slightly slower than the time it takes to read the last hundred pages of Deepsix."

— Macon Telegraph
"McDevitt induces an old-fashioned sense of wonder with marvelous inventiveness."

— Denver Post
"McDevitt maps out a future history that is both credible and captivating."

— Toronto Star
"McDevitt's vivid descriptions of alien landscapes and creatures as well as his harrowing images of a world on the verge of physical collapse heighten the inner turmoil his characters face as they struggle to come to terms with the unfinished business in their lives. With an expert sense of pacing and a knack for cliffhanging suspense, McDevitt has crafted a story of survival and personal redemption that belongs in most SF collections. Highly recommended."

— Library Journal
"Builds...to an at-the-edge-of-your-chair explosion."

— Fantastica Daily
"A super job of bringing all this together, an exciting story of dangers overcome, and sometimes not, disasters, escapes, rescues, and puzzles solved. It's always a pleasure to find a writer who still knows how to tell a good story."

— Science Fiction Chronicle
"...An individual vision, a space that manages to be near Poul Anderson, Clifford Simak, and Fred Pohl (and, over the hill but within shouting distance, George Turner)."

— Locus
"Captivating."

— Booklist
"Be sure to leave your schedule open as you read the book's later chapters."

— Jesup, GA, Press-Sentinel
"The tension hums and twangs throughout; add on the intriguing exploration of an ancient alien civilization, and the life-sized characters; another triumph for the splendid McDevitt."

— Kirkus (Starred Review)
"You are going to love Jack McDevitt's latest, Deepsix...As dramatic as anything in SF, the characters are genuine enough to care about, the tension is unremitting, and the finale is the sort of thing that could bring a movie audience to its feet cheering."

— Analog
"McDevitt sets the tension from page one, and keeps ratcheting it up as the story progresses...."
Complete Review at SciFiDimensions
~~~~~~~~~~~~~~~
Chindi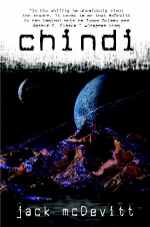 Ace Books
Hardcover: July 2, 2002
ISBN: 0441009387

Paperback: October 28, 2003
ISBN: 0441011020
Reviews
Scifidimensions: interview & review by John C. Snyder [offsite link]
"A space opera with plenty of action and unexpected developments in almost every sense. McDevitt has created a realistic space-faring universe...that is just waiting to be explored."

— Midwest Book Review
"Compelling."

— Library Watch
"A master at the top of his game...skillfully combining enthralling concepts of hard science-fiction with keenly portrayed characterizations...If you like thrilling, intellectually satisfying, well-crafted science fiction with characters you can believe in and care about, give Chindi a try."

— Jesup (GA) Press Sentinel
"Plausible technology, suspenseful dialogue, and perilous rescues make this a page-turner."

— Romantic Times
"For anyone interested in space exploration and alien archeology, McDevitt delivers."

— SFRA Review
"A whirlwind of a novel."

— The SF Site
"...Gracefully written, well-plotted, and packed full of quintessentially SF ideas. Highly recommended."

— Asimov's SF Magazine
"Good, old-fashioned sense of wonder science fiction."

— The Orlando Sentinel
"McDevitt continues his lovingly detailed exploration of interstellar reconnaissance and alien contact in something of a sequel to Deepsix (2001)....Splendid."

— Booklist
"A fun read."

— Florida Times Union
"You find yourself turning pages to see what happens next."

— Kansas City Star
"McDevitt fills the tale with all sorts of neat stuff like a storm in space that our heroes have to ride through, and an impossible space rescue that kept my eyes glued to the page....A great tale."

— Philadelphia Press Review
"Plausible technology, suspenseful dialogue and perilous rescues make this a page turner."

— Science Fiction/Fantasy Reviews
"(Hutch) is ... a very engaging heroine to follow in a sweeping novel of suspense and spectacle."

— Denver Post
"Compelling."

— Library Bookwatch
"Plenty of action and unexpected developments....A realistic space-faring universe...."

--Midwest Book Review
"First-rate SF adventure and smooth, well-plotted storytelling make this a superior choice for SF collections."

--Library Journal
"...Includes scientific and sociological speculation and strong characters to make Chindi a novel which can, and will, be appreciated by readers with a modern sensibility."

--Steven Silver's Reviews
"Strong, gripping, superluminally paced piece of work...with so many surprises and such fine characterization that I read it with my mouth agape, my heart hammering, and my envy quotient at its highest setting....(Chindi) actually allowed me to enjoy science fiction again, because (McDevitt) brings such commitment, grace, and intelligence to its writing. Bravo."
--Michael Bishop
(McDevitt's) most fascinating novel yet....McDevitt excels at describing...titanic starscapes, exotic ruins, a vast array of phenomena guaranteed to exhilarate the reader....Rumor has it that a fourth Priscilla Hutchins novel is on the way. I recommend the purchase of every one.
--Fiona Kelleghan
Washington Post
The climax is "--almost as dramatic as Deepsix's finale."
--Analog
"McDevitt will grab you by the throat of your curiosity and keep a firm hold right until the final chapter."
--Science Fiction Chronicle
"The puzzles wrapped in explanations within mysteries and cliffhanging resolution are well up to McDevitt's previous high standards."
--Kirkus Reviews
"Chindi is Jack McDevitt's ninth novel, and the third --after The Engines of God and Deepsix-- to feature Priscilla --aka 'Hutch'-- Hutchins. Hutch is...one of the most formidable --and credible-- heroines in contemporary SF. Both she and McDevitt are at the top of their respective forms in this big, lovingly detailed new novel of interstellar suspense."
~~~~~~~~~~~~~~~
Omega
Reviews
"Having mastered the big, sprawling adventure stories called space opera in books like Chindi, McDevitt extends the form in this feel-good SF novel that earns its hopeful conclusion....McDevitt is very good at imagining strange challenges, and at picturing humans coping when things don't work out as planned."

— Publishers Weekly
The (series) McDevitt began with The Engines of God...concludes in a decisive confrontation with the omega clouds....As before, McDevitt forges out of ethical dilemmas a plot as gripping as any action fan could want....A felicitous concoction that rather recalls Gregory Benford and David Brin's stuff, and surely will please their fans as well as McDevitt's.

— Booklist
"The real strength of the narrative lies in its profound evocation of cosmic mysteries, and in its corollary concern for the tiny nuts-and-bolts details that underlie the largest, most complex enterprises....No one writing today is better than McDevitt at combining galaxy-spanning adventure with the genuine novel of ideas. This latest amalgam of hard SF and humanist concerns is McDevitt at his best, and that is very good indeed."
"...There is plenty of excitement, some sympathetic characters to follow, and an answer to a puzzle McDevitt first posed almost a decade ago. If you've enjoyed the earlier novels in the series, you won't want to miss this one."

— Analog
~~~~~~~~~~~~~~~
Synopsis
After almost half a century of exploration, the Academy has finally found a true living civilization. It is advanced in many ways, but it is fragile and still in the very early stages of technological development. The bad news is that we found it because an omega cloud is headed its way, and we are now confronted with the problem that once overwhelmed the Monument-Makers (in The Engines of God): Find a way to perform a rescue. And do it without letting the locals know we're there.
While a reinforced team tries to work a miracle, Priscilla Hutchins, now director of Academy operations, seeks to solve the puzzle of the age: What are the omega clouds? The answer, she suspects, might be found in an art gallery in Georgetown.
Omega is the final book in the four-novel cycle that began with The Engines of God, and continues through Deepsix and Chindi. It is scheduled for release in November 2003 by Ace Books.
— Jack McDevitt
---
---