2009 Octavia E. Butler Scholar – Rochita Loenen-Ruiz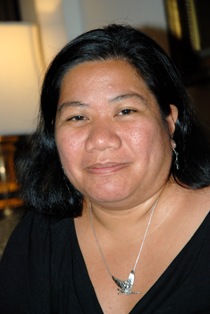 A beautiful, handcast commemorative pendant in the shape of an owl has been awarded to the 2009 Octavia E. Butler Scholar. Rochita Loenen-Ruiz received her pendant on July 31, at the party celebrating the conclusion of this year's Clarion West Writers Workshop session, where she was a student. The pendant was cast from an exclusive design that SFWA member Octavia E. Butler commissioned from artist Laurie Edison. This is the fifth pendant Edison has generously donated to serve as a tangible reminder of a Butler Scholar's role in carrying on the legacy of Butler's powerful "change-the-world" science fiction.
Carl Brandon Society Treasurer and SFWA member Nisi Shawl, and 2008 Butler Scholar Caren Gussoff presented the pendant to Loenen-Ruiz, a writer of Filipino extraction living in the Netherlands. "Without dreams, you're nothing," said Loenen-Ruiz. "I am so grateful to the Butler scholarship for giving my dreams wings." Shawl said, "Octavia touched many, many people during her life, sharing her courage and intelligence generously with her readers. The Butler scholarship continues this tradition of sharing by helping both the students who receive it and those of us who get to read their work."
The Octavia E. Butler Memorial Scholarship Fund, created in 2006, provides full scholarships to Clarion and Clarion West students of color, covering tuition, room, and partial board for up to two students annually. The Carl Brandon Society, which administers the Octavia E. Butler Memorial Scholarship Fund, was founded in 1999 to increase racial and ethnic diversity in the production of and audience for speculative fiction.
In 2007, SFWA donated the proceeds of its Nebula Awards Weekend Auction to the Octavia E. Butler Memorial Scholarship Fund.
Tax exempt donations to the Scholarship Fund and to the Carl Brandon Society may be made through our website, at www.carlbrandon.org, or by sending checks and money orders to: The Carl Brandon Society, P.O. Box 23336, Seattle, WA 98102. All checks must be made payable to the Carl Brandon Society; indicate those intended for the Scholarship Fund with a note or memo.