New from Norilana – UNDER THE ROSE
Norilana Books presents UNDER THE ROSE, a new cutting-edge anthology of contemporary stories of the fantastic, edited by Dave Hutchinson, featuring work from some of today's brightest literary talents."…a handful of real gems." ­ Publishers Weekly
Under the Rose edited by Dave Hutchinson
Front Cover Image: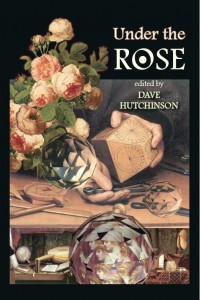 http://www.norilana.com/UnderTheRose-TPB-Front.jpg
Full Cover Flat: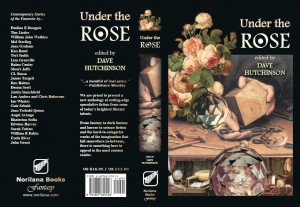 http://www.norilana.com/UnderTheRose-TPB.jpg
From fantasy to dark fantasy and horror to science fiction and the hard-to-categorize works of the imagination that fall somewhere in-between, there is something here to appeal to the most curious reader.
This volume includes stories by: was born in Sheffield in 1960. He's the author of the novel The Villages and the short-story collections Thumbprints, Fools Gold, Torn Air, The Paradise Equation and As The Crow Flies. He's the co-editor (with John Grant) of Strange Pleasures 2 and the editor of Strange Pleasures 3. His short stories have appeared in Interzone, SciFiction, Revolution SF, Infinity Plus, Live Without A Net (Lou Anders, ed.) Celebration (Ian Whates, ed.) and Subterfuge (Ian Whates, ed.)
He lives in London.
Pauline E Dungate, Tim Lieder, William John Watkins, Mel Sterling, Jean Graham, Ken Rand, Teri Smith, Liza Granville, Ralan Conley, Stuart Jaffe, CL Russo, James Targett, Ren Holton, Donna Scott, Justin Stanchfield, Lou Anders and Chris Roberson, Ian Whates, Gaie Sebold, Jean Tschohl Quinn, Angel Arango, Ekaterina Sedia, Edwina Harvey, Sarah Totton, William R Eakin, Uncle River, and John Grant.
Under the Rose edited by Dave Hutchinson
Norilana Books Fantasy
Trade Paperback (First Edition)
October 1, 2009
Retail Price: $16.95 USD – £12.00 GBP
ISBN-13: 978-1-60762-042-6
ISBN-10: 1-60762-042-1
452 pages
Click for more information:– Amazon
– Barnes & Noble
– Amazon UK
– Amazon CA
– Amazon FR
– Amazon DE
– Amazon JP
Norilana Books is a Los Angeles-based new independent publisher, owned and operated by Vera Nazarian since 2006. With over 250 books in print, Norilana Books specializes in beautifully packaged hardcover and trade paperback classics of world literature, quality fantasy, science fiction, romance and women's fiction, and young adult titles. For more information visit http://www.norilana.com/
Order Your Copy: http://www.norilana.com/norilana-fantasy.htm#rose
Contact:
Vera Nazarian, Publisher
Norilana Books, P.O. Box 2188, Winnetka, CA 91396
service (at) norilana.com – http://www.norilana.com/
Catalog of Books in Print: http://www.norilana.com/norilana-catalog.htm
Blog: http://norilanabooks.livejournal.com/