Quick Updates for 2010-01-12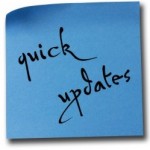 Resources
SFWA member Mary Robinette has posted the style sheet for her novel, if you are curious what one looks like.
Jason Sanford: From Janet Reid, literary agent, comes a few statistics to torture writers.
Member News
Lynn Flewelling: June 5 – Mark your calendars! I'll be launching WHITE ROAD at Mysterious Galaxy in San Diego.
Interview with SFWA member Ginger Clark.
Geek's Guide to the Galaxy podcast ep. 2 features an interview with SFWA member Paolo Bacigalupi.
SFWA members: Overdue notices just went out for your dues renewals. If you aren't sure what your status is, login or ask
Congratulations to SFWA member Steven H Silver who upgraded from Affiliate to Associate membership.