Quick Updates for 2010-03-13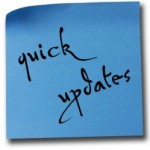 Resources
Member News
Welcome to SFWA's newest Associate member, Ken Altabef, with a sale to F&SF.
Congratulations to Stephanie Dray who upgraded to Active status with six novel sales!
Welcome to SFWA's newest active member, Euan Harvey, with three sales to Realms of Fantasy.
Congratulations to SFWA member Sherrilyn Kenyon whose Dark-Hunter Vol 2 is on the New York Times list!