Quick Updates for 2010-05-04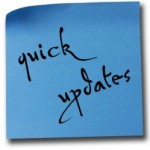 Member News
SFWA member Tony Pi's story "A Sweet Calling", is now in Clarkesworld #44 (May 2010).
SF Signal has a good interview with Sheila Williams about the decision to go electronic for subs.
SFWA member J.A. Pitts will read BLACK BLADE BLUES at Powell's Cedar Hills Crossing in Beaverton, OR. Thursday, May 6, 7pm.
Win a free copy of SFWA member Dan Wells' I AM NOT A SERIAL KILLER!