Quick Updates for 2010-06-09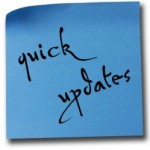 Member News
SFWA Member Harry Connolly is pleased to announce that Bibliothèque Interdite purchased French rights to CHILD OF FIRE and GAME OF CAGES.
Welcome to SFWA's newest Active member Julia Karr, author of XVI from Penguin.
SFWA member Eric James Stone: will be doing a book signing for Year's Best SF 15 in Eagle Mountain, UT on June 12.
Congratulations to SFWA member Cat Rambo who sold her story "Sugar" to PodCastle.