Beaded sea creature caption contest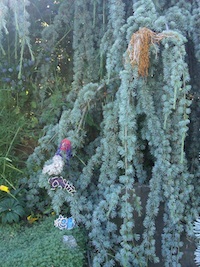 First prize: A Beaded Sea Creature and an autographed copy of The Moon and the Sun.
To celebrate the ebook edition of Vonda N. McIntyre's Nebula-winning novel The Moon and the Sun, Book View Cafe is hosing a Beaded Sea Creature caption contest. The contest and the rules are on the first page today  (www.bookviewcafe.com) and the permalink is http://www.bookviewcafe.com/index.php/News/Moon-and-the-Sun-caption-contest
One of Vonda's hobbies is creating beaded sea creatures. The designs are based on hyperbolic and fractal surfaces and have been exhibited in conjunction with The Institute for Figuring's Hyperbolic Coral Reef, at installations in New York, Chicago, Los Angeles, Dublin, etc. The next installation will be at the Smithsonian, in Washington, D.C., USA, in the fall of 2010.
Sherzad, the sea monster, one of the main characters in The Moon and the Sun, would be familiar with creatures very like these: Coral reefs, sea anemones, nudibranchs, marine flatworms.
The contest runs through the evening of Friday, 18 June. Winners will be announced Sunday, 20 June.
For more information, please visit the Book View Cafe website at http://www.bookviewcafe.com/
The permalink for contest information is http://www.bookviewcafe.com/index.php/News/Moon-and-the-Sun-caption-contest