Quick Updates for 2010-07-03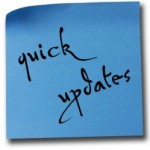 Member News
Congratulations to SFWA member Yasmine Galenorn who had a new release come out yesterday: Night Myst.
SFWA member Nnedi Okorafor has a Reading Guide for her novel WHO FEARS DEATH on the Penguin website.
SFWA member Mary Robinette Kowal's Science Fiction story "A Type of Favor" is online at Sharable.net.
Congratulations! SFWA member Jennifer Brozek won an Origins award for her work on "The Big Damn Heroes Handbook" Serenity RPG supplement.
SFWA member Jennifer Brozek's finance book, THE LITTLE FINANCE BOOK THAT COULD, has been released.
Welcome to SFWA's newest Active member Liane Merciel, The River Kings' Road.
Interview with SFWA member Cat Rambo and editor of Fantasy magazine, at Redstone SF.
Welcome to SFWA's newest Associate member, Steven Saus, with a sale to the anthology Hungry For Your Love.