Unhappy Client Suing B.K. Nelson Inc. Literary Agency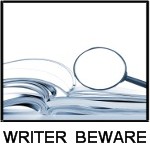 Posted by Victoria Strauss for Writer Beware
An article from Courthouse News Service (a nationwide newsletter for lawyers focusing on civil litigation) caught my eye this morning:
A retired lawyer claims he wrote a book investigating the death of Princess Diana, and his agent extorted thousands of dollars from him to market the book. Paul Anthony Spletzer…sued BK Nelson and her eponymous firm, whom he says he hired to represent him for 20 percent commission.

"In negotiating her fee, defendant Nelson, when questioned by Spletzer as to why she charged 20 percent commission, which is believed to be twice as much as other agencies, replied that she, she personally, was worth it," the complaint states.
Spletzer says Nelson told him that he "would receive not less than $250,000 and probably $450,000 plus royalties for the rights" to his book by selling it as a film.

He claims she asked him to pay $4,000 so she could create a DVD trailer of "Her Necessary Death" and market the book to the entertainment industry in New York and Hollywood.

"Defendants stated that this trailer would be similar to the trailers seen on HBO or Showtime or those presented as coming attractions in movie houses … that there would be actors presenting the theme of the work entitled 'Her Necessary Death,'" according to the complaint.

Spletzer says he received the trailer in May, but that it "is worthless."
The full complaint, which demands millions of dollars in compensatory and punitive damages, can be seen here.
Also noted in the article: B.K. Nelson Inc. is one of nineteen literary agencies on Writer Beware's Thumbs Down Agency List. We've been receiving complaints and advisories about the agency since 1999, including:
A 20% commission (a handful of reputable agents do charge 20%, but the prevailing standard is 15%).
An evaluation fee of $350, plus an additional fee of between $3.00 and $5.00 per page if the manuscript isn't finished.
A fee of $250-400 to represent subsidiary rights at various book fairs.
A fee of $450 to be included in a Speakers' Directory.
A fee of $2,000 to feature an author and manuscript at BEA.
Editing fees of as much as $4,500.
Thousands of dollars charged to a client to produce a "professional trailer" to present to the entertainment industry. This client isn't Mr. Spletzer (I'm withholding the exact amount paid to protect the client's identity), but had a similar opinion of the trailer, describing it as something that "could have been done by a high school student."
And that's just the documented complaints.
The agency's website describes B.K. Nelson Inc. as "one of the leading agencies in the nation," which "has had a strong impact on the careers of writers world wide." However, the agency's client list reveals little evidence of recent sales. Of the clients on the list, several don't turn up in any websearch. For others, the referenced titles are incorrect, or don't seem to exist at all. Two clients have books with fee-based companies (Xlibris and Tate–possibly placed with these companies by the authors themselves). For the book authors and titles that do check out, there are some reputable publishers–but few recent publication dates (most of the pub dates are 2004 and earlier).
I'll be following the progress of Mr. Spletzer's lawsuit, and will report back.