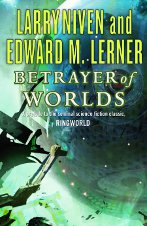 Larry Niven and Edward M. Lerner announce Betrayer of Worlds
The Fleet of Worlds saga continues …
Fleeing the supernova chain reaction at the galactic core, the cowardly Puppeteers of the Fleet of Worlds have — just barely — survived.
They've stumbled from one crisis to the next: the rebellion of their human slaves, the relentless questing of the species of Known Space, the spectacular rise of the starfishlike Gw'oth, the onslaught of the genocidal Pak. Catastrophe looms again as past crises return — and converge. Who can possibly save the Fleet of Worlds from its greatest peril yet?
The Ringworld was not Louis Wu's first epic adventure.
BETRAYER OF WORLDS
Larry Niven and Edward M. Lerner
Tor Books
ISBN 0765326086
Larry Niven and Edward M. Lerner are members of SFWA
http://www.larryniven.org
http://www.sfwa.org/members/lerner/