SFWA's 2010 Nebula Award Nomination period is open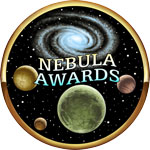 SFWA's 2010 Nebula Award® nomination period is open from November 15, 2010 to February 15, 2011 23:59 PST. Active and Associate SFWA members are eligible to submit nominating ballots. http://www.sfwa.org/nebula-nomination
Nebula Facts
Active and Associate members may nominate up to 5 works in each category of the Nebulas, the Bradbury and the Andre Norton Award.
Members may change their ballot at any point during the nomination period.
The 6 items in each category that receive the most votes go on the ballot. (The Norton Jury may add up to 3 works on the Norton ballot.)
Active members only vote on the final ballot in March
The Nebula Awards® will be presented at the Nebula Awards Weekend, May 19-22nd 2011 in Washington, D.C.
Works published between January 1, 2010, and December 31, 2010, are eligible in the following categories:
Short Story: less than 7,500 words;
Novelette: at least 7,500 words but less than 17,500 words;
Novella: at least 17,500 words but less than 40,000 words
Novel: 40,000 words or more.
(At the author's request, a novella-length work published individually, rather than as a part of a collection, anthology, or other collective work, shall appear in the novel category.)
Members who wish to make work available for Nebula consideration may do so in the "SFWA Member Fiction" area of Discussion Forums: http://www.sfwa.org/member-fiction