Guest Post–Privacy, freedom, and making a living as a writer
by Christopher McKitterick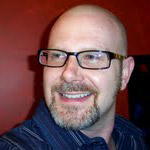 Having my novel pirated and torrented all over the web has gotten me thinking a lot about copyright and distribution of creative work, what to do about pirating, and the freedoms that get touched when combating pirates.
One cannot write about this topic without mentioning long-time Electronic Frontier Foundation fellow Cory Doctorow, who observes that "Despite 15 long years of the copyright wars, despite draconian laws and savage penalties, despite secret treaties and widespread censorship, despite millions spent on ill-advised copy-prevention tools, more copying takes place today than ever before." (The Guardian)

When Doctorow came to Lawrence, KS, for the 2009 Campbell Conference (where we honored him with the Campbell Award for Little Brother), he gave a talk about an experiment he was planning to run. He's long argued for giving away ebooks as a tool to increase an author's visibility, and after hearing his plan to completely circumvent traditional publishing with his experimental project – the marketing supported by giving away books (marketing itself coming from Boing Boing, articles, and thousands of avid fans…) – I was convinced that it was a good approach for a new novelist, as well, and planned to give away my book for free.
Heck, John Scalzi made his name by giving away his work, and he's doing pretty well now.
Only the pirates beat me to the punch and cracked the Kindle version of my book, posted it to bittorrent sites, and posted links all over the web. So I'm playing catch-up with the pirates in a race to give away my work! It's available as a free .pdf download now. As I write this, a friend is converting the book into epub format, and I hope to offer more formats as soon as I can manage to make them. Not just sample chapters, but the whole darn thing.
Am I crazy? Well, when it comes down to it, it's already out there. As I see it, I'm losing nothing by giving it away. Now, we can have all kinds of ethical and philosophical debates at this point, wring our hands about the decline of civil society where people feel it's okay to take something that someone created, copy it, and give it away to others (or even charge for downloading it! One has to be a member of some of these forums to use 'em…), but that misses the point.
My book has been pirated and shared already. I can't stop that, and the methods necessary to create a pirate-free environment would transform the internet into something ugly and forbidding. Look at the Great Firewall of China. Do you want that? I don't. And even this unimaginably oppressive regime of censorship doesn't stop serious Chinese internet users who seek internet freedom.
Freedom isn't free, sez the dusty ghost. Musicians, movie-makers, authors, artists, and other creatives pay for the cool stuff we can get on teh interwebs – not with money (though, sure, that too; websites aren't free), but with creative energy that they could have used to make money. Before I turned to a life of teaching and fiction-writing, I worked in high-tech and used my creative energies to create software documentation. My career change cost me about $50k/year in salary and bonuses, not counting stock options and other perks. I no longer get fancy parties or logo-embroidered jackets or a 5th-floor office with windows overlooking forested hills and all that jazz…. But I love teaching. And when I'm not writing fiction, I get grouchy and unhappy. Will fiction-writing ever make up for the earnings I gave up in the transition from IT dude to teacher? Seriously doubtful, but that's not the point.
This is the same story for all creatives: Whatever you're doing for love is costing you greenbacks, probably a lot of 'em. If you were dealing crack or selling stocks or whatever, you'd earn a lot more dough. So there's a measurable cost to creative output. If – rather, when, because that's the reality of our times – someone pirates your work, be it a photograph or song or book or whatever, you are potentially giving up even more income that you could have earned from selling that work. To have created that work in the first place is to have cost yourself income due to the time and energy you expended to create it. So pirated work serves up a double-whammy, kicking you in the creative 'nads while you're down.
However! If someone encounters your art or book or movie or song or whatever via a friend's blog or in an email or wherever, and if they like it, and if – and this is important – if you are identified as the creator of that work, you've earned a new fan. This is someone who might potentially purchase your work, or at least spread the word to other like-minded people, some of whom might purchase your work. This was a functioning business model for Jim Baen's Universe, enough so that they paid pro rates for stuff they gave away. The idea is pretty simple: The more this happens – the more your work gets around for free – the greater the likelihood that someone will encounter it who'll buy it or make a donation to your PayPal tip jar. Assuming enough of these ethical folks see your work, potential losses from non-sales will be outweighed by the acquisition of new fans.
When it comes down to it, that's why we create stuff: To communicate whatever it is in our hearts that burns so strong that we are driven to create art and share it with others. To grab stranger on the street by the collar and say, "Listen to this! I have something really important to say!"
Getting paid to do this just means we can continue to do more of it. I don't know any professional writers, artists, or musicians who honestly hope to get rich from their work. Though a lot of beginners have this motivation, few succeed, because creative fields simply aren't the best place to get rich. We do it for other reasons. If I could make a living writing fiction, would I give up teaching? It would mean another salary drop, similar to going from IT to the university, plus loss of more benefits like health insurance and so forth, but it would also mean giving up teaching, about which I am equally passionate. Happily, I won't have to face this dilemma any time soon.
But many creatives out there dream of earning enough from their art to pursue creative work full-time. It seems counter-intuitive to think that giving away one's creative output could serve that goal, but obscurity = poverty. Perhaps even worse, obscurity = no one can hear the really important thing you have to say. But if no one pays the creators, there'll be few creators to make the cool, quality stuff we love. Right here is the heart of the matter, and the eternal question regarding piracy and giving away our work. If I ever transition to full-time writing, I'd love to be able to earn enough to buy food and pay the bills. The only way to make that happen is to develop an audience now, enough of whom are willing to pay to enjoy my work later.
So am I bothered by my book getting ripped and torrented? Sure, at least I was when I first discovered the piracy. Now I see it as an irritant; I'm annoyed that the folks who ripped and shared it didn't ask if I was willing to give it away and let me handle that. Heck, I told an audience at ConQuesT (the Kansas City SF convention) last spring that I was going to give it away, and I've been telling people that ever since – and even wrote it on my website and blog! In fact, I'm a bit flattered that someone liked it enough to share it. But when people read my book in shadowy corners of the internet, I don't know about it. On the other hand, when they buy a Kindle edition or a paper copy, my publisher tracks those sales. When they download the ebooks from my website, I know about it. My primary motivation in writing is to share stories about things I can't not write about, so I want to know when people are reading it. I want to hear what they think about it! Heck, buy a copy and give it to your local library or to a friend if you really liked it, but largely I simply want to know that I'm being read, that someone out there gets what I'm saying and is affected in some way by my work. It would be awesome if my writing could provide enough income to pay for a trip or fix the roof or so forth, but I'm not banking on it. I just don't want to be the idiot who worked his ass off for years to create something and then just let people run off with it without even saying, "Thanks."
So I urge you: If you enjoy a creative work – especially one you got for free! – tell the world about it. With my novel, at least, you needn't worry about getting caught, because I'm giving it away. Blog about it, post reviews at Amazon or Goodreads or wherever, and tell your friends whom you think might also like it. Post a link to my site where others can download it. Because those small efforts are payment-in-kind for my effort-cost to create the work and distribute it without demanding payment or imposing DRM on the free copies. Visit my my blog or Facebook page or send me an email to let me know what you think.
I'll let y'all know how my own experiment turns out: Will giving out my novel earn extra sales? That'll be tough to measure, because it's my debut novel, so I can't compare it to anything. My publisher might be able to guess a bit by comparing my sales to those of other SF books he publishes, but that won't say much more than what appeals to various market segments. But I hope to see results in the form of responses from readers. And maybe some of them will buy a copy of this or my next book!
—
Christopher McKitterick's short work has appeared in a variety of magazines and anthologies. He was honored to edit the special science fiction issue of World Literature Today earlier this year, and his debut novel, Transcendence, was published in November. He is Associate Director of the Center for the Study of Science Fiction and lives in Lawrence, Kansas, where he teaches writing and SF, restores old vehicles, and watches the sky.