Audio interview of Ursula K. Le Guin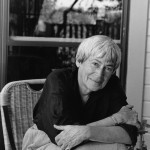 Dmae Roberts, an award-winning radio artist and writer, recently profiled acclaimed author Ursula K. Le Guin for Stage and Studio, a radio show that focus on performing, literary, and media arts with a connection to Oregon.
The half hour audio documentary covers a range of subjects, including Ms. Le Guin's latest project, Out Here, a book of poetry and drawings, with photographs by Roger Dorband. Additional topics include Ms. Le Guin's approach to writing and storytelling; her opposition to the Authors Guild v. Google settlement proposal; and her thoughts on gender in literary arts.
Image of Ms. Le Guin, Copyright © by Marian Wood Kolisch