Top-Earning Authors of 2010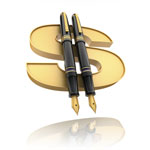 Forbes magazine has released its annual list of the ten highest paid authors. The order is based on income from books, film, television, gaming, and other sources from June 2009 to June 2010.
1. James Paterson: $70 million
Over the last four years, one out of every seventeen novels sold in the United States has James Patterson's name on the cover.
"I am not a great prose stylist. I'm a storyteller. There are thousands of people who don't like what I do. Fortunately, there are millions who do."
2. Stephenie Meyer: $40 million
The Twilight novels are available in 37 languages and have sold over 100 million copies worldwide.
"My focus is the characters–that's the part of the story that is most important to me. I feel the best way to write believable characters is to really believe in them yourself."
3. Stephen King: $34 million
King has produced five books of nonfiction, nine short story collections, and forty-nine novels, thus far.
"Hope is a good thing – maybe the best thing, and no good thing ever dies."
4. Danielle Steel: $32 million
Twenty-two of her books have been adapted for television. Of these, two have received Golden Globe nominations.
"A bad review is like baking a cake with all the best ingredients and having someone sit on it. "
5. Ken Follet: $20 million
Besides writing, he plays bass guitar in a band called Damn Right I Got the Blues, and occasionally plays a bass balalaika with the folk group Clog Iron.
"There is no point in asking a man a question until you have established whether he has any reason to lie to you."
6. Dean Koontz: $18 million
Forty-four of his novels have appeared on the New York Times Bestsellers list.
"I like to deal with EVERY aspect of our condition, and that means terror and humor in equal mix. Some books have more room for humor than others."
7. Janet Evanovich: $16 million
Fans have come up with the titles of her last nine Plum novels.
"My professional aspirations were simple – I wanted to be an intergalactic princess."
8. John Grisham. $15 million
From 1983 to 1990, Grisham practiced law at an annual salary of $8,000
"I have learned not to read reviews. Period. And I hate reviewers. All of them, or at least all but two or three. Life is much simpler ignoring reviews and the nasty people who write them. Critics should find meaningful work."
9. Nicholas Sparks: $14 million
In his 20's, he sold dental products over the phone before landing a job as a pharmaceuticals rep.
"I do not use profanity in my novels. My characters all go to church."
10. J.K. Rowling: $10 million
In 2004, she became the world's first billionaire writer.
"It is impossible to live without failing at something, unless you live so cautiously that you might as well not have lived at all – in which case, you fail by default."