Quick Updates for 2011-08-23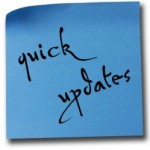 Member News
SFWA member Kari Sperring has signed a two book deal with DAW for a pair of linked fantasy novels.
SFWA member Jennifer Brozek won the silver ENnie for best electronic RPG book for SHANGHAI VAMPOCALYPSE.
Analog's first Kindle anthology, INTO THE NEW MILLENNIUM: TRAILBLAZING TALES FROM ANALOG 2000-2010 includes SFWA member David D. Levine's "Pupa."
SFWA member Ferrett Steinmetz's woman-heals-an-insane-father story, "My Father's Wounds," is up at Beneath Ceaseless Skies.
SFWA member Genevieve Valentine's touch-telepath story "Souvenir" is up now Strange Horizons.
NET IMPACT, a new spy thriller from SFWA member Donald J. Bingle, now available on Kindle, Nook, Kobo, & trade paperback.
SFWA member Eugie Foster's story "The Wish of the Demon Achtromagk" was published in ep. 214 of the Drabblecast Podcast.
SFWA member Ferrett Steinmetz sold his gay-lovers-infected-by-military-virus story "Devour" to Escape Pod.