Title of Work: Unlikely Princesses!
Author of Work: Melinda Carney
URL: http://meliniquesanz.blogspot.com
Featured Book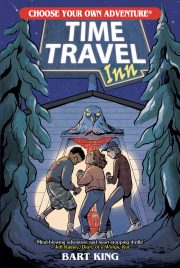 Astrid's family has just moved to a remote motel in Wisconsin. After her parents disappear there, Astrid and two new friends start investigating. They quickly discover that the inn is an epicenter for time travel research gone very, very wrong.
Featured Member
Garrett Boatman
GARRETT BOATMAN is the author of Floaters, a novella from Crystal Lake Publishing, the novels Stage Fright from Valancourt Books, Night's Plutonian Shore, The Clocks of Midnight, and The Mirror of Eternity, coming soon from J. Ellington Ashton Press.