2012 Prix Aurora Award Nominations Announced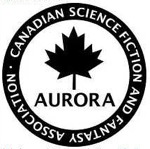 The English Professional and the Fan Aurora Award finalists for 2012 have been announced.
Best Novel – English
Enter Night by Michael Rowe, ChiZine Publications
Eutopia: A Novel of Terrible Optimism by David Nickle, ChiZine Publications
Napier's Bones by Derryl Murphy, ChiZine Publications
The Pattern Scars by Caitlin Sweet, ChiZine Publications
Technicolor Ultra Mall by Ryan Oakley, EDGE
Wonder by Robert J. Sawyer, Penguin Canada
Best Short Fiction – English
"The Legend of Gluck" by Marie Bilodeau, When the Hero Comes Home, Dragon Moon Press
"The Needle's Eye" by Suzanne Church, Chilling Tales: Evil Did I Dwell; Lewd Did I Live, EDGE
"One Horrible Day" by Randy McCharles, The 2nd Circle, The 10th Circle Project
"Turning It Off" by Susan Forest, Analog, December
"To Live and Die in Gibbontown" by Derek Künsken, Asimov's, October/November
Best Poem / Song – English
"A Good Catch" by Colleen Anderson, Polu Texni, April
"Ode to the Mongolian Death Worm" by Sandra Kasturi, ChiZine, Supergod Mega-Issue, Volume 47
"Skeleton Leaves" by Helen Marshall, Kelp Queen Press
""Skeleton Woman"" by Heather Dale and Ben Deschamps, Fairytale, CD
"Zombie Bees of Winnipeg" by Carolyn Clink, ChiZine, Supergod Mega-Issue, Volume 47
Best Graphic Novel – English
Goblins, webcomic, created by Tarol Hunt
Imagination Manifesto, Book 2 by GMB Chomichuk, James Rewucki and John Toone, Alchemical Press
Weregeek, webcomic, created by Alina Pete
Best Related Work – English
Fairytale, CD by Heather Dale, HeatherDale.com
The First Circle: Volume One of the Tenth Circle Project, edited by Eileen Bell and Ryan McFadden
Neo-Opsis, edited by Karl Johanson
On Spec, published by the Copper Pig Writers' Society
Tesseracts Fifteen: A Case of Quite Curious Tales, edited by Julie Czerneda and Susan MacGregor, EDGE
Best Artist (Professional and Amateur Nominations)
(An example of each artist's work is listed below but they are to be judged on the body of work they have produced in the award year)
Janice Blaine, "Cat in Space", Cover art for Neo-Opsis, Issue 20
Costi Gurgu, cover art for Outer Diverse, Starfire
Erik Mohr, cover art for ChiZine Publications
Dan O'Driscoll, "Deep Blue Seven", cover art for On Spec magazine, Summer issue
Martin Springett, Interior art for The Pattern Scars, ChiZine
Fan/Volunteer Award Nominations
Best Fan Publication
BCSFAzine, edited by Felicity Walker
Bourbon and Eggnog by Eileen Bell, Ryan McFadden, Billie Milholland and Randy McCharles, 10th Circle Project
In Places Between: The Robin Herrington Memorial Short Story Contest book,edited by Reneé Bennett
Sol Rising newsmagazine, edited by Michael Matheson
Space Cadet, edited by R. Graeme Cameron
Best Fan Filk
Stone Dragons (Tom and Sue Jeffers), concert at FilKONtario
Phil Mills, Body of Song-Writing Work including FAWM and 50/90
Cindy Turner, Interfilk concert at OVFF
Best Fan Organization
Andrew Gurudata, chair of the Constellation Awards committee
Peter Halasz, administrator of the Sunburst Awards
Helen Marshall and Sandra Kasturi, chairs of the Chiaroscuro Reading Series (Toronto)
Randy McCharles, founder and chair of When Words Collide (Calgary)
Alex von Thorn, chair of SFContario 2 (Toronto)
Rose Wilson, for organizing the Art Show at V-Con (Vancouver)
Best Fan Other
Lloyd Penney, letters of comment
Peter Watts, "Reality: The Ultimate Mythology" lecture, Toronto SpecFic Colloquium
Taral Wayne, Canadian Fanzine Fanac Awards art
All works and activities were completed in 2011 by Canadians. Voting will begin on April 16, 2012. All ballots must be received by July 23, 2012, 11:59pm PDT.  For more information visit The Prix Aurora website.