Libertarian Futurist Society to Honor Vernor Vinge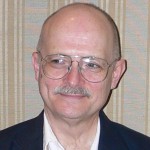 Science fiction writer Vernor Vinge will receive a Special Prometheus Award for Lifetime Achievement from the Libertarian Futurist Society.
The LFS will present the rare Lifetime Achievement award to Vinge at noon Saturday Oct. 11, 2014, at Conjecture, a science fiction convention at the Town and Country Hotel in San Diego, Calif. (For more info, visit http://2014.conjecture.org)
This is the second such Lifetime award presented by the LFS. Poul Anderson received the first in 2001.
Vinge has been recognized often by the LFS over the decades. He won two Prometheus Awards for Best Novel for Marooned in Realtime (1987) and A Deepness in the Sky (2000); and two Hall of Fame Awards, for "The Ungoverned" (2004) and
"True Names" (2007).
Vinge has also won three Hugo Awards for Best Novel and two
for Best Novella. His concept of a technological singularity, in which the future is radically  transformed by the attainment of superhuman intelligence, has been a major influence on science fiction, the transhumanist movement, and the high-tech community generally. His novella "True Names" explored many of the themes that
soon after became central to the cyberpunk movement. Speculation about libertarian, anarchist, and free-market themes has been a recurring focus of his novels and stories.
Libertarian Futurist Society President William H. Stoddard will present the award in a public ceremony open to all Conjecture attendees. The Society invites all members, well-wishers, and admirers of Vinge to attend. Attendees can register for the whole weekend, or for a single day.
•••