How to Land Pitch Meetings in Hollywood
by Joshua Sky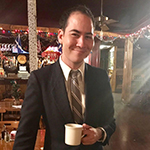 A big part of selling scripts and landing writing assignments is pitching material in Hollywood. These dealings are nurtured through a series of meetings that you can get in a variety of ways. Let's explore how to land and get the most from these meetings.
If you do not have an agent, the best way to obtain meetings would be through professional referrals. Another way is raw networking from the bottom up. Tough, but doable. Targeted cold-emailing via LinkedIn, industry panel events, networking mixers and going for a lot of coffee dates. Incrementally, over time, these can build up your contacts base.
If you do have an agent or manager worth their salt, they should be setting you up with a series of what are called "general meetings." These are courtesy meetings with a list of production companies, producers and development executives that the agent thinks their client will click with. Hopefully, if you and buyer get along, you can nurture a long-term relationship, build trust and eventually find a way to work together.
Now, to a new writer a pitch or a general meeting is a BIG deal. Why shouldn't it be? There's a chance material could be bought, a career launched. However, having been behind the scenes, I've witnessed just how many meetings execs take, and it's a ton. On average, three-to-five a day. At minimum about 20 meetings a week, X 52 = 1,040 meetings a year. This is a conservative number. But still, there's a chance you can make a deal happen, so you've got to take it. And just like the execs, you want to take as many as possible to increase your odds of success.
Executives tend to have these meetings during business hours only. Why? Because they are getting paid while on the clock and it shows their bosses that they are actively searching for new I.P. The downside for you, the writer, is that you pay to take these meetings, taking time-off from work, expending gas and energy. One topic that isn't discussed enough is that it is expensive to pursue a writing career in entertainment.
Prior to the meeting, do your research. This is a very exclusive date / job interview. Keep track of the type of content they produce. Read up on exactly whom you are meeting with and what they've accomplished. See what projects they've spearheaded, so you have a good understanding of what they're looking for. If you learn they recently bought the rights to something, check out what that property is. Maybe you can pitch yourself as the writer to adapt it.
At these meetings, the dress code is somewhere in the middle. You want to be professional, but don't wear a suit. You want to appear cool, but not nonchalant. Arrive early, obvious, but LA traffic can affect timing, so track it in advance. Once on location, you will be greeted by an assistant who will have you wait in the lobby.
The executive will usually have you wait between 10-25 minutes before seeing you. Sometimes this is a power move, but most times execs are harried due to an unending deluge of emails, phone calls and decisions that need to be made. They might also need a moment to look-up who you are, and read script coverage from the assistant to see if your stuff was any good. Once you come in, you will both make small talk, and eventually get down to business, where they'll ask, "What are you working on?"
Now's your chance to pitch the scripts you've already completed. The best ones that have been opening doors, or mention new ideas you're working on. As a general rule of thumb, you want to walk in prepared to talk about three to five ideas. Go by the best ones that fit that executive's wheelhouse.
Note: Unless your project is low-budget, it has a small chance of getting made because of the economic realities of how mainstream entertainment functions. A big budget, high-quality script without a pre-sold fan base has a shot of getting you work adapting an established property, or staffed on a show, but not getting produced. That's why the term "grounded sci-fi" gets thrown around town a lot. What does it mean? It's a nice way of saying high-concept, low-budget.
When you pitch, you want to keep it short and interesting. Not more than a logline (a compelling one sentence description of your idea), or a paragraph. As an example, here's the logline to my pilot, I THINK CLOUD: To save his dead mother, a drug dealer must smuggle hacks into the digital afterlife.
If the exec is intrigued, they'll have you walk through the idea. This is where your storytelling and salesmanship game really comes into play. If that goes well, they might ask you for a treatment, script or additional materials. And based on those, hopefully make an offer. They may also want to develop the story with you, giving notes to help uplift the material to the point where they can show it to their boss in the hopes of acquiring it.
Another potential outcome is that the executive or production company might have a property they'd like you to work on. Maybe they own the rights to a short story by Heinlein, or have an idea of their own. This SOUNDS and IS exciting. But there are potential pitfalls. For one, you and your agent need to ensure that this is a worthwhile opportunity and that you'll get paid for this work. Hollywood is fraught with false passages of seemingly legitimate companies tricking writers into doing free labor. There might be a chance the exec wants this done on spec. And if that's the case, unless you absolutely love the project, maybe you should politely decline.
If you work on it, you won't own the material if they pass on your take. And if they gave this opportunity to you so quickly and willingly, chances are there are twenty other writers they gave this assignment to as well, and they will get twenty treatments for free and may go with none of them. You have to use your best judgment. There are writers who have gotten real work this way, and many who haven't.
However, if it's a paid assignment, or something you would be thrilled to work on and want to take the chance, well, that's another story of course.
•••
Originally from Maui, Hawaii, Joshua is a writer based in Los Angeles. He began his career at Marvel Entertainment where he served in their licensing and branding department. There, he learned the business of how storytelling can be tied to merchandising and received his first break writing for their web series, Marvel Heroes: What The?! and Marvel.com He has also worked for Disney Publishing Worldwide, Fox Television and Netflix.
Joshua is the recipient of a Devery Freeman Prize in Screenwriting, a Brooklyn College Departmental Award for Distinguished Television Writing, and an Upright Citizen's Brigade Diversity Scholarship. He has written for Marvel, Heeb, Motherboard, Omni, Geeks Media and is represented by Abrams Artist Agency.