A moment of appreciation for Paul Melko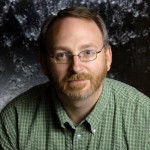 As Scalzi has already said, Russell and Michael have been phenomenal and highly visible. Paul Melko has been quiet, efficient and always there when I needed him. He's put in three years as the South Central regional director in addition to time with Griefcom and maintaining his own writing career. His voice on the board has been one of reason and often saw the way through to a compromise. I have very, very much enjoyed serving with him and he deserves SFWA's hearty thanks.
As much as I'll miss having him on the board, my fondest wish now is that he have the time to work on more fiction. May I suggest that one way to thank Paul for services rendered to SFWA is to explore his writing, both his novel Singularity's Ring as well as his short fiction.
Yours,
Mary Robinette Kowal
Vice President, SFWA