Quick Updates for 2010-12-05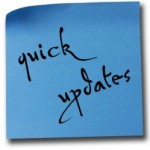 Member News
Congratulations to SFWA member Tina Connolly who sold IRONSKIN, a steampunk JANE EYRE with fairies and its sequel, to Tor Books.
SFWA member Cindy Pon's ARC Tour of FURY OF THE PHOENIX is at Dark Faerie Tales.
SFWA member David Brin discusses Grand-Scale reasons to Explore Space: How we all benefit.