Quick Updates for 2011-08-05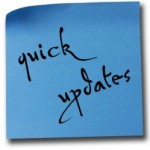 Member News
SFWA member Paul S. Kemp has signed a deal to publish two sword and sorcery novels with Angry Robot Books.
Here's the ToC for SFWA member Jennifer Brozek's forthcoming anthology HUMAN FOR A DAY, featuring many SFWA members.
SFWA member Eugie Foster sold a short story reprint "Biba Jibun" to Pseudopod.
New anthology END OF AN AEON includes stories by SFWA members Amanda Downum, Eugie Foster, David Levine and more!
SFWA member Jennifer Brozek has been promoted to managing editor of Black Room Publications.
You can now hear SFWA member David Levine's story "Zauberschrift" on PodCastle.