SFWA Schedule for Book Expo America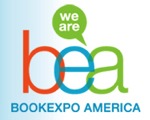 The Science Fiction and Fantasy Writers of America will, for the first time, be participating in Book Expo America, June 5-7, in New York City. We will have information, signings, and representatives from SFWA and Writer Beware.
We will be at Booth 3591, so come on by and say hi!
Signing Schedule
Tuesday
11am: Malinda Lo (Ash, Huntress)
1pm: Laura Anne Gilman (The Vineart War trilogy, Cosa Nostradamus)
2pm: Ann Chamberlin (The Woman at the Well, The Merlin of St. Gilles' Well, The Merlin of the Oakwood, Gloria)
3pm: Cecilia Tan (Fantastic Erotica, Best Erotic Fantasy)
Wednesday
10am: Jeri Smith-Ready (Shine)
1pm: Phillipa Ballantyne (The Janus Affair)
2pm: Sarah Beth Durst (Drink, Slay, Love)
3pm: Holly Black and Ellen Kushner (Welcome to Bordertown)
4pm: Michelle Knudsen (The Dragon of Trelian and The Princess of Trelian)
Thursday
11am: Walter Greatshell (Xombies, Mad Skills, Enormity)
2pm: Myke Cole (Control Point)
4pm: Gay Parrington Terry (Meeting the Dog Girls)