RIP Ray Bradbury (1920-2012)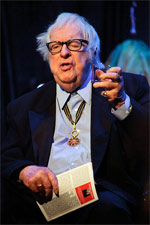 Ray Bradbury (1920-2012) was one of the science fiction authors whose name was instantly recognizable, aided, perhaps, by the fact that his fiction, from short stories like "The Veldt" to novels including Fahrenheit 451 were taught in schools.  His first professional story, "The Pendulum," appeared in the November 1941 issue of Super Science Stories although he had been publishing stories, including an earlier version of that one, in fanzines since 1939. By 1945, he began publishing a series of linked stories which were set on Mars, which would eventually be collected in The Martian Chronicles.
Originally from Waukegan, Illinois, Bradbury used his life there and his youthful infatuation with the circus to flavor many of his stories, which often mixed a sense of nostalgia for a simpler time with an underlying darkness. The stories collected in The Illustrated Man and the semi-autobiographical novel Dandelion Wine both offer strong examples of this nostalgia.
Bradbury worked as a screenwriter for such films as John Huston's Moby Dick, as well as adaptations of his own works, including The Wonderful Ice Cream Suit and Something Wicked This Way Comes. His works also were adapted by other authors and featured The Beast from 20,000 Fathoms, a major miniseries based on The Martian Chronicles in 1980 and, more recently, A Sound of Thunder.
In 1989, Bradbury was named the SFWA Damon Knight Grand Master and in 2008, SFWA has named its screenplay award, The Ray Bradbury Award for Outstanding Dramatic Presentation, in his honor. Bradbury has received the numerous lifetime achievement awards, including the National Medal of Arts, the O. Henry Memorial Award, the World Fantasy Award Life Achievement Award, the World Horror Grandmaster, the Stoker Award Life Achievement Award, the Gandalf, a SF Hall of Fame Living Inductee, the Rhysling Grand Master Poet Award, and First Fandom Award. He has received three Seiun Awards, a Prometheus Award, and a Retro-Hugo for Fahrenheit 451. Bradbury died on June 5, 2012 at the age of 91 in Southern California.
•••
John Scalzi, President of the Science Fiction and Fantasy Writers of America, has offered the following: "Simply put, it is the end of an era. Ray was more than just an author, more than just a Grand Master. He was one of the pillars of our community. It is no coincidence that one of our major awards is named after him, the Ray Bradbury Award for Outstanding Dramatic Presentation. It is impossible to count the number of authors who have been influenced by his work.
"He was a writer of fantastic ideas, but he was more than just the ideas, he was about the words. He was one of the writers of our genre who could show the power of the words themselves. He used words in a way that continues to inspire joy in his readers, and envy and admiration in his peers.
"We mourn his passing, but much more than that, we celebrate the arc of his life, his contribution to our literature and our community, and the worlds that he left us."
SFWA will provide continuing coverage and remembrances.
(Image: Merry Christmas 2116 XVIII, a Creative Commons Attribution Share-Alike (2.0) image from SeraphimC's photostream)