Guest Post: Panel Deportment and Demeanor
by L. Timmel Duchamp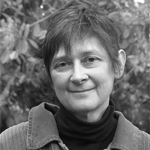 It occurs to me that, for most writers, signing up for and appearing on panels at cons usually entails only a limited amount of reflection. Would it be correct to say that the only thing most people who sign up for particular panels are sure of is that they have (or might have) something to say about the proposed topic? And that that certainty is the only criterion they have for participation? And is it also true that most people sit down in front of an audience first and foremost with the purpose of talking on that subject and with the confidence (whether warranted or not) that the audience (if not the other panelists) will be interested in hearing them speak?
Speaking to the subject of the panel is, after all, what they as panelists are there to do. But it's not really just that simple, is it. Panelists are there to engage in a collective communication– with fellow panelists, and with the audience (even when the audience isn't speaking). When you start to think about it, it's a difficult form of communication to describe. Unless, of course, you think of each panelist as present in isolation from all the others, relating singly to the audience. But what sort of experience would that be for the audience? Three or four or five different speakers, performing intermittently, like university lecturers taking turns addressing a class of students? That's not my idea of a panel.
Presuming that's not a correct description of what a panel is, let's ask ourselves just what the appropriate description for the kind of communication that panelists should be engaging in is. Andrea Hairston, in a comment, used the word "conversation." When I'm moderating a panel, I definitely think of the discussion as a conversation– among panelists, and between the audience and the entire panel. The character of a panel discussion is significantly different when audience participation is allowed or encouraged early in the panel rather than late. (I've moderated both kinds of panels, and both are legitimate, since verbal participation by the audience, while usually desirable, is not always necessary for creating a worthwhile experience for all.) Since Readercon panels last for only 50 minutes (as opposed to WisCon's eighty minutes), it's not surprising that quite a few panels at Readercon don't allow the audience into the conversation until very near the end (if at all). This is always fine with me, as an audience member, if the panelists have interesting things to say and are engaging in genuine conversation (rather than holding forth to the audience without bothering to engage with one another).
Did you catch that I just used the expression "holding forth"? I'm sure that just about everyone reading this post will know what I mean. The problem with seeing one's purpose on a panel as primarily that of speaking–"sharing" insights or regurgitating something recently read that relates to the subject–is that it turns panelists into lecturers. Speaking for myself, I've often found that the thinking, reading, and note-taking I've done in preparation for a panel may often have nothing to do with what the other panelists are talking about. So what does a responsible panelist do? Wait one's turn and hold forth? Many do. But that's not my idea of participating in a discussion. Even when I'm the moderator of the panel, I try to take my cue from the other panelists–and sometimes the audience– and am prepared, when necessary, to abandon my preparation and go with the flow. (I.e., as a moderator or leader of a panel, my priority is to foster and organize as best I can an engaged discussion, a priority above that of setting an agenda for the discussion. I do, of course, start out setting an agenda, particularly when it's a panel I've proposed myself, but I'm always prepared to abandon it when I can see its either unintelligible or uninteresting to the other panelists.)
There are some problems, though, in thinking of panel discussion as conversation. A panel discussion can actually become too casual and informal, encouraging certain types of people to blather on uninhibited in ways that in a more informal setting could easily be headed off by the speaker's interlocutors. Informality can encourage a loss of consciousness that you're demanding attention from a large group of people who have no way of using the usual gambits interlocutors can use in conversations involving less than, say, six people. Informality can also contribute to panelists ignoring the cues of the moderator. Even worse, I've seen panelists actually lose it when stopped mid-flow–completely oblivious to the fact that the tangent they've gone off on may not be of interest to anyone else in the room. When there's an audience, cutting off someone whose gone on and on and on can be fraught, even if everyone else in the room is just waiting for that person to stop.
Would it be unreasonable to suggest that people ought not to agree to be on a panel unless at least one or two of the other panelists are people they're interested in hearing talk and interested in engaging with? It might well be that mere interest in and knowledgeability about the topic are not  sufficient reasons for being on a panel. (They are obviously necessary reasons.) Perhaps all of us who participate in programming need to have the sense, going into a panel, that we're interested in hearing what the other panelists (or most of the other panelists) will have to say.
I strikes me that when serving on a panel we need to start from an attitude of respect for the panelists (and audience–which is something good writers will presumably already have, since you can't really be a good writer without presuming your readers are smart and perceptive), and a desire to hear what they're going to say, and of course the hope that the other panelists will be as interested in engaging with what you have to say as you are with what they have to say.
Does that sound utopian? I don't really think it is, since I've seen the difference these attitudes can make to panels I've been on. (The Imagining Radical Democracy panel at the last WisCon was a perfect example of that. I found it an electrifying experience. And I was not alone in that.) I feel pretty confident that much of the insensitive behavior of panelists at cons is a result of a particular panelist coming into the panel with a predetermined lack of interest in what the other panelists might have to say and regarding all the time on the panel when they're not talking as wasted, boring moments to be waited out.
WisCon– and probably many other cons as well– offers guidelines (and even a little course) on effective moderation of panels. Everyone considers panel behavior to be obvious. I wonder. Perhaps we ought to have a primer for prospective panelists. Not just on etiquette (though that would be a start, particularly in educating the clueless about what their relationship to the moderator ought to be), but also on purpose and attitude.
•••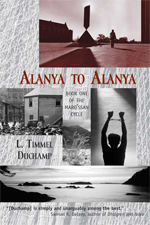 L. Timmel Duchamp founded Aqueduct Press. Her stories have appeared in Asimov's Science Fiction magazine and in numerous anthologies. Her first novel Alanya to Alanya was released in 2005, part of an acclaimed series known as the Marq'ssan Cycle.  This post first appeared at Ambling Along the Aqueduct.
Author's ph0to courtesy of Aqueduct Press.