In Memoriam: Harry Harrison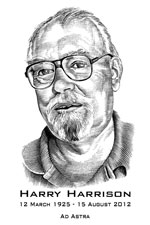 Harry Harrison (March 12, 1925-August 15, 2012) passed away early today. Best known for the film Soylent Green, Harry was also a SFWA Grand Master, a pioneer of genre, and a colorful personality. He will be greatly missed.
"Harry Harrison was literally the first person I met in SFWA. My very first convention was the 2003 Worldcon in Toronto, and one of the very first things I did was seek out the SFWA Suite, where our members relax and socialize between panels and events. In the suite, there was an older man sitting at a table; I sat down and introduced myself to him, and he told me who he was. Just like that I was having a conversation with the man who wrote The Stainless Steel Rat and Make Room! Make Room! and whose influence on my own writing is obvious to anyone who cares to look. It was a wonderful introduction to the organization.
"Harry was one of our Grand Masters, and his impact on our genre and on popular culture is significant and will endure. He kept working, kept writing and kept making great adventures. We'll miss him, and are glad we have his work still with us."
John Scalzi
SFWA President
•••
SFWA Grand Master Harry Harrison (b.1925) died on August 15. Harrison entered the science fiction field as an illustrator for EC Comics, working on Weird Fantasy and Weird Science. He went on to write for comics as well as edit them before turning his attention to prose, publishing the short story "Rock Diver" in Worlds Beyond in 1951.
During the 1950s and 60s, Harrison served as the main writer for the "Flash Gordon" comic strip. His first novel, Deathworld, published in 1960, garnered Harrison a Hugo nomination. Harrison's creation of Slippery Jim diGriz, the Stainless Steel Rat, led to a lengthy series about the anti-hero and he also created the humorous character Bill, the Galactic Hero.
Harrison's 1966 novel Make Room, Make Room was turned into the feature film Soylent Green, starring Charlton Heston. Harrison won a Nebula Award for the film. He also was the editor, with Brian W. Aldiss, of the second Nebula Award Anthology and went on to edit, with Aldiss and alone, several other anthology series, including Decade, Nova, and a best of the year series that lasted for nine years. In the 1990s, Harrison turned his attention to alternate history, first writing The Hammer and the Cross trilogy and later the Stars and Stripes Forever trilogy.
Harrison was born Henry Maxwell Dempsey. Shortly after his birth, his father changed the family name to Harrison, a fact Harry did not know until he was thirty, at which time he officially changed his name to Harry Max Harrison. During World War II, Harrison served as a gunnery instructor for the United States Air Force. Later in life, he would move to the Republic of Ireland. His interest in the language Esperanto, made its way into several of Harrison's works and he was the honorary President of the Esperanto Association of Ireland.
In 1990, Harrison was named Guest of Honor at ConFiction, the 48th World Science Fiction Convention. He was inducted into the Science Fiction Hall of Fame in 2004 and named a Damon Knight Grand Master by SFWA in 2009.
•••
A memorial page at the Harry Harrison News Blog has been set up to share memories and condolences. John Scalzi's personal remembrance of Harry is located on his blog.