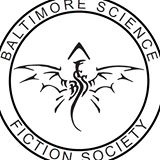 Balticon has issued the following release:
BALTICON is Maryland's Regional Science Fiction and Fantasy Convention, happening Mermorial Day weekend, May 23rd-26th. This is the 48th year that the Baltimore Science Fiction Society, Inc. has produced the event. BALTICON brings together almost 2,000 fans that have the opportunity to meet authors, artists, musicians, podcasters, scientists, costumers, filmmakers and fellow fans representing the spectrum of the Science Fiction and Fantasy genres.
This year BALTICON will host very special Guest of Honor, New York Times best-selling author and two-time David Gemmell Legend Award winner Brandon Sanderson, whose first and second Wheel of Time books unseated Dan Brown and John Grisham from #1 spots on the New York Times Hardcover Fiction Best-Seller list. He has had two works optioned for film and his books have been published in over twenty languages.
BALTICON is also pleased to welcome as Artist Guest of Honor painter and internationally renowned tattoo artist Halo Jankowski, who can be seen competing in season four of Inkmaster on Spike TV.
Other guests include Music Guest of Honor, Bard Kenneth Anders; Myke Cole, author of the 2013 Compton Crook Award Winning Novel, Shadow Point: Control Ops, the 2014 Compton Crook Award Winner (TBA); 2014 Robert A. Heinlein Award recipient Geoffrey Landis, and the winners and runners-up for the 2013 BSFS Amateur Writer Award, the 2014 BSFS Poetry Award and the 2014 Jack Chalker Young Writers Awards. Balticon will also pay tribute to Ghost of Honor Robert Jordan and Fan Ghost of Honor Marty Gear. On Sunday, Balticon is excited to host a presentation by Google's Chief Internet Evangelist Vinton Cerf.
Balticon is pleased to again present the comedy of Mark Van Name, the infamous Liars Panel, Brick Barrientos' SF Trivia, and dances including Susan de Guardiola's costumed Steampunk Ball, the Midnight Saturday featuring Dance Ditched by Kate, the Teen Dance Party and Balticon University Dance, Medieval Dance with instruction by Patches and a Swing/Jitterbug dance.
Balticon is a four day, 24-hours-a-day Extravaganza, featuring over 900 Hours of Multi-Track Programming featuring authors, publishers, editors, artists, scientists, musicians and other creative SF luminaries. Join over a thousand SF fans for the area's largest and longest running convention of its kind! Visit our huge art show, dealer's room, concerts, dances, gaming room, computer room and video room. Everything Science Fiction and Fantasy in one huge package, including one of the finest Masquerades in fandom, an amazing Sunday Night Short Festival, and feature independent film premieres. As always, the core of Balticon is its amazing literary program, which affords to opportunity to interact with and learn from the best professionals in the genre.
Flyers are available by calling BSFS or can be downloaded from http://www.balticon.org/B48_flyer_8w.pdf .
Media representatives may contact Steve Clark of Balticon at publicity@balticon.org .
All other inquiries please contact:
BALTICON 48
P.O. Box 686 Baltimore, MD 21203-0686
Phone: (410) JOE-BSFS (563-2737)
Or reach us via e-mail to: publicity@balticon.org and on the web at: www.balticon.org