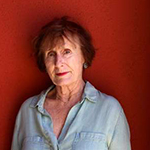 Kit Reed (b.1932) died on September 24, several months after being diagnosed with an inoperable brain tumor.  Reed published the story "The Wait" in 1958 and was nominated for a Hugo Award for Best New Author of 1958, a forerunner of the John W. Campbell, Jr. Award.  She published short fiction mostly in F&SF in her early years, but eventually branched out to other magazines.  Her first novel was mainstream, and in 1969, she published Armed Camps, her first genre novel.
Beginning with Mister Da V and Other Stories in 1967, Reed published ten collections of her short fiction, most recently the massive The Story Until Now: A Great Big Book of Stories in 2013.  Three of her works, "Bride of Bigfoot," Weird Women, Wired Women, and Little Sisters of the Apocalypse were shortlisted for the James Tiptree, Jr. Award.  Her novel Where was nominated for the John W. Campbell Memorial Award, and she won the Alex Award from the ALA for Thinner Than Thou.
Reed has published horror novels and detective novels under the pseudonyms Shelley Hyde and Kit Craig. She published her final novel, Mormama in May of this year.
Kit was one of the champions of our community: writer, teacher, and mentor. She will be deeply missed.
Kit's son, Mack Reed, has posted an additional remembrance on Facebook.