In Memoriam – Peggy Rae Sapienza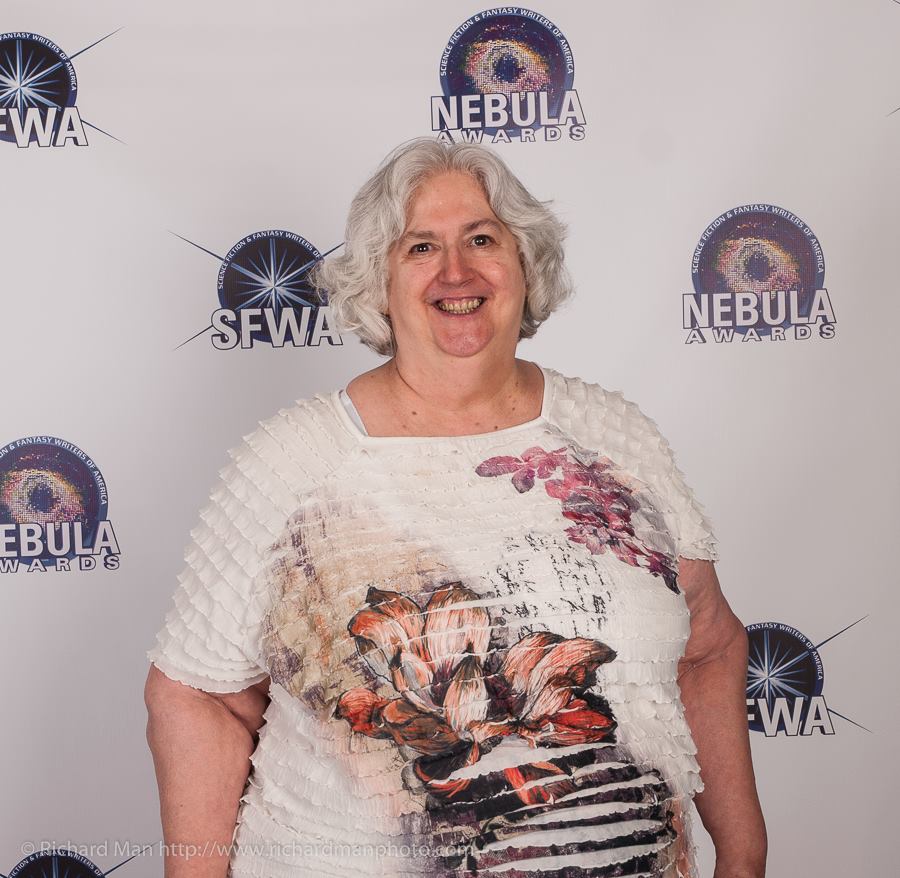 SFWA Volunteer Peggy Rae Sapienza (1944-2015) died on March 22, about a month after undergoing heart surgery.  Sapienza proofread the SFWA Bulletin for several years and also helped out with coordinating the New York Reception since 2008.  In 2009, she helped run the Nebula Awards Weekend in Los Angeles and she co-chaired the 2010 Weekend in Cocoa Beach before chairing the 2011 and 2012 Nebula weekends in Washington.  She continued to help with the weekends in San Jose and with planning the upcoming 50th Nebula weekend in Chicago.
In addition to volunteering for SFWA, Sapienza was an active con-runner, serving in a variety of positions at local conventions and Worldcons.  She could often be found running the press office and also created the modern Worldcon exhibits concourse.  She vice-chaired the 1993 Worldcon in San Francisco and chaired the 1998 Worldcon in Baltimore.  In 2012, she was recognized as the Fan Guest of Honor at Chicon 7.  In 2014, she co-chaired the World Fantasy Con in Alexandria, VA.
Sapienza was a second generation fan.  Her father, Jack McKnight, created the first Hugo Awards in 1953 for the Worldcon, missing most of the convention to do so.  Several of Sapienza's children have also become fans. Sapienza attended her first convention, Philcon, when she was twelve and her first Worldcon in 1960, where she met Bob Pavlat, who would become her first husband. In 1983, she and Pavlat were awarded the Big Heart Award.  Pavlat died in 1983, and Peggy Rae married her second husband, John Sapienza, in 1999.  Both of Peggy Rae's husbands had their own fannish credentials, with Pavlat being a fanzine and convention fan and Sapienza being an RPG fan who contributed to AD&D and Runequest.
In the early 1960s, she published the fanzine ETWAS. In more recent years, she had become a sort of den mother to many of the fans in the greater Washington area. One of her skills was not only recognizing what needed to be done, but quickly appraising the talent around her and finding people who could not only do the job at hand, but would also be interested in the task.
John Scalzi said, "Indeed she will be missed. When I was president of SFWA, I had the good fortune of working with Peggy Rae on the Nebula Awards Weekend, and I can attest that she was one of the good ones. She knew what she was doing, and she made it look, if not easy (running conventions is not easy) then at least manageable."
Current President Steven Gould said, "Peggy Rae was a generous soul who shared her experience and skills freely. I'm having trouble imagining a Nebula Weekend without her. We have lost a valued colleague and friend."
Some links to other tributes to Peggy Rae:
John Scalzi:  http://whatever.scalzi.com/2015/03/23/rip-peggy-rae-sapienza/
Chicon:  http://www.chicon.org/sapienza.php
Locus online:  http://www.locusmag.com/News/2015/03/peggy-rae-sapienza-1944-2015/
SF Site:  https://www.sfsite.com/news/2015/03/23/obituary-peggy-rae-sapienza/
In the SFWA Discussion Forums:  http://www.sfwa.org/forum/index.php?/topic/8174-peggy-rae-sapienza-1944-2015/ (Requires member login.)