Duncan Jones, Director of Source Code – a Video Interview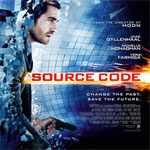 Warren Etheredge recently interviewed Duncan Jones, the director of Source Code and Moon. Topics include: science fiction, filmmaking in an era of special effects, and the shifting nature of story in Hollywood. Jones also reflects on the speed at which science is progressing and the effect it is having on science fiction writers. Jones lists William Gibson, Philip K. Dick, and J.G. Ballard as influences on his work.
An entertaining thirty minutes, the interview contains far more substance than is typically found on a publicity tour. Recommended.
The High Bar – Warren Etheredge and Duncan Jones, Director of Source Code