From the Fringes to the Classroom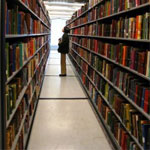 News from the Campbell Conference:
"From the Fringes to the Classroom: What's Next in Science Fiction Education?"
This year's Campbell Conference (June 11-14) brings together teachers and scholars to discuss the current state of and future trends in science fiction education at their institutions, especially as it pertains to degree programs. Events will kickoff Friday afternoon with a visit to the Archives at the Spencer Library, followed by the Awards Banquet and presentation of the Campbell and Sturgeon Awards. On Saturday morning, we will have panels with our academic guests reporting on their programs and initiatives, followed by a roundtable discussion in the afternoon. Sunday concludes with author readings and a science fiction soiree at the home of the late Larry Martin, a longtime friend of the Gunn Center for the Study of Science Fiction. Degrees in science fiction are being offered at universities from Florida to California and in Great Britain, where a masters degree in fantasy has just been announced by Glasgow. What's next?​
We invite members of SFWA and the larger SF community to join us and to take part in these discussions and events.
For full conference details, see the conference page.