Larry Niven and Edward M. Lerner: Juggler of Worlds
Larry Niven and Edward M. Lerner are pleased to announce the mass-market re-release of their second Known Space collaboration, Juggler of Worlds. Covert agent Sigmund Ausfaller is Earth's secret weapon, humanity's best defense against all conspiracies, real and potential — and imaginary — of foes both human and alien. Who better than a brilliant paranoid to expose the devious plots of others? Only in the mysterious Nessus, representative of the secretive Puppeteers, Sigmund may finally have met his match….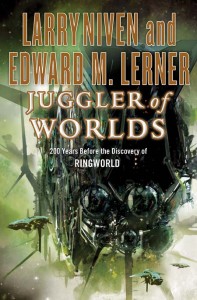 A snazzy thriller/mystery that keeps us (and our hero) guessing until the very end … Wide screen galactic scope, nifty super-science, crafty aliens, corporate corruption and cover ups, and a multi-leveled spy vs. spy vs. spy mystery with little being as it first appears make Juggler of Worlds a first class exemplar of pure SF entertainment.— SFsite
The first book in Niven and Lerner's series, Fleet of Worlds, was the "Sci Fi Essential" novel for September, 2007. Fleet of Worlds went on to be named a finalist for the 2008 Prometheus Award.
The third book in the series, Destroyer of Worlds, will be released in November.
Unofficial website of Larry Niven