Apex Magazine newest SFWA qualifying market!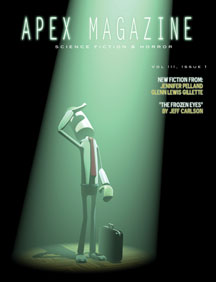 Today the board of directors of SFWA unanimously voted to add Apex Magazine to the list of SFWA qualifying markets. When Apex moved online in June of 2008, one of editor Jason Sizemore's reasons was to be able to pay his authors SFWA pro-rates and to get them a wider audience.
Apex is known for its blend of Science-fiction and horror, garnering regular nominations on the Stoker ballot.  They have published SFWA authors such as Jennifer Pelland, Glenn Lewis Gillette, and Ben Bova.
Short fiction published with Apex from June, 2008 forward are  now qualifying sales for membership with SFWA. Congratulations to Jason, the entire editorial staff at Apex Magazine and their writers!