Research Tool: Google News Timeline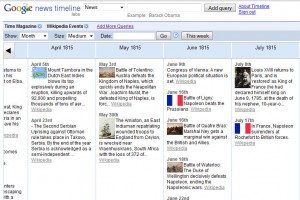 If you are writing fiction that's set at any point in the real world's history, the subject of research can take up countless hours of time.  The nitty details can tie up you up while writing anything from alternate history to urban fantasy.  Sometimes though, you just need to know a quick date to set the  background of your story.
Check out the Google News Timeline, as a quick place to start your search.  It  will either save you countless hours of research or suck you into hours of distraction.  What's particularly handy about it is that you can see what happens on the days or weeks on either side of the even you are looking for. This is useful in setting your context or avoiding blunders.