USA TODAY to include Amazon Kindle on best-seller list
McLean, Va. (July 22, 2009) – Beginning tomorrow USA TODAY's Best-Selling Books List will include Amazon Kindle book sales in overall sales rankings. USA TODAY is the first major book list to include Kindle book sales and in doing so will provide a much more robust ranking for our bestseller list. This list will run in Thursday's edition of USA TODAY and online at booklist.usatoday.com.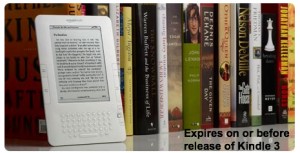 "Since October of 1993, USA TODAY's Best-Selling Books List has provided our readers with a complete picture of sales in the publishing industry," said Susan Weiss, managing editor of the Life section. "With the addition of sales figures from Kindle, we have created a more robust list which reflects the new platforms consumers and readers are using to purchase books."
"We are thrilled to be contributing Kindle book sales information to USA TODAY for their comprehensive bestseller list for books customers," said Laura Porco, director of Kindle books. "Given the great overlap of taste between Kindle customers and physical book buyers, the USA TODAY Best-Selling Books List is truly reflective of what customers are buying regardless of format."
Rankings for USA TODAY's Best-Selling Books List are based on retail sales data collected each week that include more than 2.5 million volumes from about 7,000 physical retail outlets in addition to books sold online. USA TODAY's list ranks titles regardless of genre or format, providing one of the best assessments of which books are most popular among readers and consumers each week. USA TODAY's Best-Selling Books list has been published each Thursday in the newspaper's Life section since October 28, 1993.
USA TODAY was founded in 1982 with a mission to serve as a forum for better understanding and unity to help make the USA truly one nation. Through its flagship newspaper and popular Web site, USA TODAY engages the national conversation and connects readers online through social media applications. USA TODAY, the nation's top-selling newspaper with a total average daily circulation of more than 2.1 million, and USATODAY.com, an award-winning newspaper Web site which launched in 1995, reach a combined 5.8 million readers daily. The USA TODAY news and information brand also includes: USA TODAY Education, USA TODAY LIVE, USA TODAY Mobile, Open Air magazine and USA TODAY Sports Weekly. USA TODAY is owned by Gannett Co., Inc. (NYSE: GCI).