RIP: Gene Van Troyer 1950-2009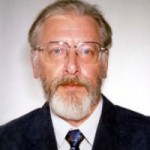 Gene Van Troyer, a science fiction writer and poet who worked as an English teacher in Japan, died July 17, 2009 of cancer. He was 58.
Born in Portland, Oregon, he started writing poetry and science fiction at 13 started selling it professionally at about 20. In 1973, with assistance from Fred Pohl, he contacted Shibano Takumi, considered the key figure in founding Japanese sf. The next year he went to Japan as an exchange student and became a translation consultant for many of the key figures in the sf scene there. For years he reviewed American science fiction for SF Magajin editor Fukushima Masami.
Despite living across the Pacific Ocean, he actively volunteered in both the Science Fiction and Fantasy Writers of America and the Science Fiction Poetry Association. He served for a time as an assistant editor of Star*Line, the SFPA newsletter. With Grania Davis, he edited Speculative Japan: Outstanding Tales of Japanese Science Fiction and Fantasy, a book that presented the stories of Japanese writers in English translation that debuted at Nippon 2007, the 65th World Science Fiction Convention. The Kurodahan Press Web site credits him for being the driving force behind the anthology. He also edited the poetry anthology Collaborations (Ravenna Press, 2007).
Over the past three  years he wrote a series of poems examining subjects such as Internet pages and multi-user games  with a wry eye for psychological metaphor. Those poems were collected in You Are Here (Sam's Dot Publishing, 2009).
He is survived by his wife Tomoko, his sons Makato and Akito and his daughter Miika.