Drewlie and Julia: Or, The Case of the Alias'd Literary Agent
Posted by Victoria Strauss for Writer Beware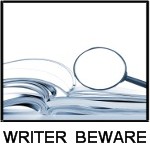 Last August, I received several emails from writers who'd had a very strange experience.
They'd submitted to a literary agent in Boston called Sara Levine, only to be informed by Levine's assistant, a few weeks later, that Levine had died suddenly of a heart attack. The regretful assistant suggested they contact Levine's colleague, Julia Levin of the Florida-based Julia Levin Literary Agency, who was taking over Levine's business. Other writers who'd submitted to Sara Levine were approached by Julia Levin herself, with much the same story.
No one had ever heard of Julia Levin before. Her profiles on MySpace, LinkedIn, and Facebook (the only info that could be found on her, online or off) indicated that she'd been in business since 2005, both on her own and as a co-agent with Sara Levine. In emails to prospective clients, as well as in a September Open House on Facebook, through which she hoped to add to her agency roster, she reported a number of recent book sales to major publishers.
However, there were some discrepancies. According to Sara Levine's LinkedIn profile, Sara had been an agent only since March 2009–which made Julia's claim that the two of them had been co-agents since 2005 a bit puzzling. On investigation, none of Julia's listed clients turned out to be published. Her sales claims didn't check out either–not just because no trace of either book titles or authors could be found, but because she reported selling to imprints that didn't exist, or that didn't accept the kind of book she said she'd sold. And the physical address she gave for her agency turned out to be bogus.
Writers began to smell a rat, and to say so in public. Complaints appeared on LinkedIn. One fed-up writer posted on her blog about her experience with Sara and then with Julia. Questions erupted on Julia's Facebook forum. Why the inconsistencies in Julia's professional info? Why the fake address? The weirdness of Sara dropping dead and Julia emerging out of thin air began to look even weirder–could Sara and Julia, with only an "e" of difference between their last names, possibly be the same person?
Apparently it all got to be too much for poor Julia. By mid-September, she'd deleted all her profiles, and vanished from the Internet.
Then, toward the end of September, I started getting questions about another Florida-based agent called Drew Montgomery, of Drew Montgomery Literary Associates. I'd never heard of Drew before, but a bit of Googling turned up profiles on MySpace, LinkedIn, and Facebook. According to the info there, Drew had been in business since 2000, had trained at the Glen Cravits Agency, and had recently made a number of sales to major publishing houses.
Ah, but those pesky inconsistencies. Drew didn't provide authors or titles, so her sales claims couldn't be verified–plus, some of the publishers' names were mis-spelled or not quite correct, something you'd think an experienced literary agent would not get wrong. There was no trace of publication for any of Drew's named clients. Attempting to research the Glen Cravits Agency produced no evidence that it had ever existed. Drew's West Palm Beach snail mail address turned out to be a Barnes & Noble store elsewhere in Florida. And, oh yes–Drew had just announced an Open House event on Facebook, in order to recruit new clients.
This all seemed eerily familiar, and within a few days, I found out why. The owner of an agent tracking website emailed me to say that he'd been recently contacted by the now-vanished Julia Levin about a listing, which he refused because she couldn't prove she'd made any sales. About a week later, Drew Montgomery approached him with the same request. Since she couldn't prove any sales either (in contradiction to her various profiles, she claimed to be a brand-new agent), he gave her the same response. He happened to notice something odd, however: Drew's IP address was identical to Julia's.
So it seemed that Julia was attempting to rise again, under an (another?) assumed name.
Through October, I got a trickle of email inquiries about Drew, to which I responded with the info above (in condensed form). Then in November, I posted a warning to an Absolute Write discussion thread about Drew and her agency. A few days later, someone claiming to be one of Drew's clients showed up to defend her wonderful, terrific, fabulous agent against AW's cowardly attacks.
Now, this isn't an uncommon occurrence on AW, where discussion of marginal agents and publishers often spurs the emergence of sockpuppets, who not infrequently turn out to be the agents or publishers themselves, posting under aliases. But this sockpuppet event was especially amusing, because not only was the sockpuppet posting from Drew's IP address, she was using Drew's previous name. That's right: To defend herself against criticism, fake agent Drew Montgomery chose to present herself as fake client Julia Levin–despite the fact that, six posts up, I'd provided a complete account of her exploits under that name.
Called on this inept bit of attempted subterfuge, Drew/Julia did not back down (the caps are all hers).
I have no idea what is going on here. I have never been, nor have I ever claimed to be a literary agent. I AM NOT A LITERARY AGENT AND WOULD NEVER IN MY LIFE SAY THAT I AM A LITERARY AGENT. I AM A WRITER. I WRITE BOOKS AND THAT'S ALL I DO AND DREW MONTGOMERY IS MY LITERARY AGENT. I HAVE NO IDEA WHY OUR IP ADDRESSES MATCH OR WHY PEOPLE SEEM TO THINK DREW IS ME OR THAT DREW IS THIS OTHER JULIA. IT'S A MYSTERY TO ME. ALL I KNOW IS THAT DREW IS AN HONEST, HARD WORKING, DEDICATED, AND PROFESSIONAL AGENT WHO IS TRYING TO DO HER JOB DESPITE ALL THIS IDIOCY ABOUT HER NOT BEING WHO SHE SAYS SHE IS. BUT IT DOESN'T MATTER. DREW MONTGOMERY IS A GOOD AGENT AND I AM HAPPY TO BE HER CLIENT. PEOPLE SHOULD CARE MORE ABOUT FINDING THE REAL SCAMMERS AND LEAVE GOOD AGENTS LIKE DREW TO THEIR JOB.
JULIA LEVIN
You can imagine what happened next. Julia-Levin-the-client vanished in a puff of smoke, just like Julia-Levin-the-agent. Within a few days, Drew Montgomery was gone as well, all her social media profiles deleted.
Since then, I've been keeping my eye out for recurrences. There've been none so far…or have there? Doing research for this post today, I discovered something ominous: a LinkedIn listing for Drew Montgomery at The Montgomery Literary Agency. A sensible person might think it wise not to use that name again (even though she has changed the name of the agency)–but Drew, or whoever she is, has not proven herself to be very sensible. Or perhaps she's just thrifty with her aliases.
What is it that cops say? It's a good thing so many criminals are so dumb.