Quick Updates for 2010-01-05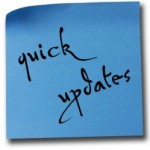 Member News
Welcome to SFWA's newest Active member Erin Cashier! Read one of her qualifying stories.
Welcome to SFWA's newest Associate member, Justin Howe. Read his qualifying story "Of Shifting Skin and Certainty."
Congratulations to Jennifer Brozek who made her 1st short fiction sale of the year. "The Prince of Artemis V" to Crossed Genres magazine.