Quick Updates for 2010-02-19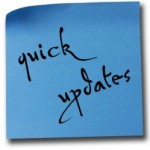 Resources
Victoria Strauss: Open Book Alliance: how Google Book Settlement gives Google monopoly in another area: search.
SFWA member Jim C. Hines is conducting a survey about first novel sales.
Member News
Welcome to SFWA's newest associate member, Brad Aiken, who sold "Locked In" to Analog.
Congratulations to SFWA member Edward Willett whose novel Terra Insegura has made the short list for this year's Prix Aurora Awards!
Industry News