Quick Updates for 2010-03-03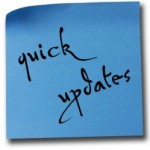 Resources
What do LGBTQ teens want to read?
Victoria Strauss: Mokoto Rich on the math of ebook pricing: they're not as cheap to produce as many people think.
Bookends Literary Agency offers a handy publishing dictionary
Member News
New issue of Apex Magazine is a single author issue with fiction by SFWA member Mary Robinette Kowal.
SFWA member Jess Wynne has a story in the Steampunk issue of Crossed Genres.
SFWA member Monica Valentinelli's THE QUEEN OF CROWS is now available at DriveThruHorror.com.
SFWA member Jay Lake is reading and signing new novel PINION at Powells Cedar Hills store on 4/1.
Happy release day to SFWA member Seanan Mcguire for A Local Habitation.
Happy Book release day to SFWA Member Blake Charlton's novel, Spellwright.
Welcome to SFWA's newest Active member Rachel Aaron, author of The Spirit Thief.
Welcome to SFWA's newest Active member Genevieve Valentine. Read one of her qualifying stories.
Industry News