Quick Updates for 2010-03-27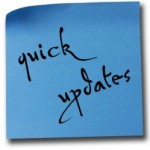 Member News
Welcome to SFWA's newest Affiliate member, Justin Bell, of Spectrum Literary Agency.
SFWA member and New York Times bestselling author Carrie Vaughn talks about why she left her long-term publisher.
Welcome to SFWA's newest Associate member, Cheryl Reifsnyder, with a sale to Cricket.
Congratulations to SFWA member and Nebula nominee Saladin Ahmed who is a new father of twins!
Industry News
Correction: The SFWA's "Bulletin" mentioned that Shock Totem is currently closed to submissions.This is incorrect. They are open.