New from Norilana – SOUNDS AND FURIES by Tanith Lee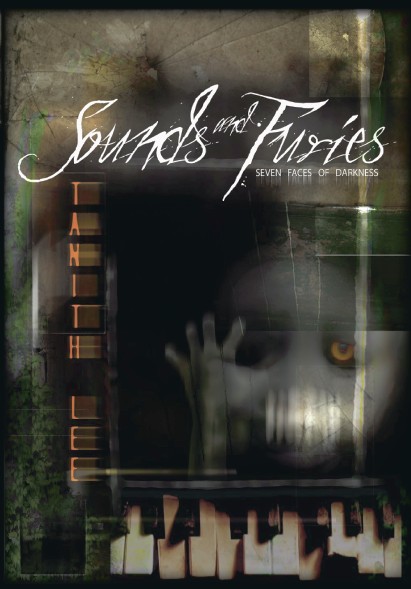 Norilana Books is proud to present Sounds And Furies by the 2009 Grand Master of Horror, Tanith Lee . . .
SOUNDS AND FURIES by Tanith Lee
Sounds and Furies collects seven singular, gorgeous tales of lingering atmospheric horror from the masterful pen of Tanith Lee.
These seven faces of darkness cast a wide shadow and burrow deep within…
The collection includes six short stories and a full-length novella The Isle Is Full of Noises.
Table of Contents
"Where All Things Perish"
"Midday People"
"Cold Fire"
"Crying in the Rain"
"We All Fall Down"
"The Beautiful and Damned by F. Scott Fitzgerald"
"The Isle is Full of Noises" (novella)
Tanith Lee is the author of 77 novels, 14 collections, and almost 300 short stories, plus 4 radio plays (broadcast by the BBC) and 2 scripts for the TV cult UK SF series Blake's 7. Her work, which has been translated into over 17 languages, ranges through fantasy, SF, gothic, YA and children's books, contemporary, historical and detective novels, and horror. She was awarded the prestigious title of Grand Master of Horror 2009. Major awards include the August Derleth Award for Death's Master, the second book in the Flat Earth series.
SOUNDS AND FURIES by Tanith Lee
TaLeKa (an imprint of Norilana Books)
March 1, 2010
246 pages
Trade Hardcover – First Edition
ISBN-13: 978-1-60762-059-4
ISBN-10: 1-60762-059-6
Retail Price: $23.95 USD – £16.50 GBP
Trade Paperback Edition
ISBN-13: 978-1-60762-060-0
ISBN-10: 1-60762-060-X
Retail Price: $11.95 USD – £9.50 GBP
http://www.norilana.com/norilana-taleka.htm#saf
Order Your Copy:
– Amazon
– Barnes & Noble
– Amazon UK
– Amazon CA
– Amazon FR
– Amazon DE
– Amazon JP
Norilana Books is a Los Angeles-based new independent publisher, owned and operated by Vera Nazarian since 2006. With over 260 books in print, Norilana Books specializes in beautifully packaged hardcover and trade paperback classics of world literature, quality fantasy, science fiction, romance and women's fiction, and young adult titles. For more information visit http://www.norilana.com/